On a rainy, blustery afternoon Kate, William and Prince George arrived in Wellington, New Zealand to start their Royal Tour.
The Duchess wore a label with a history among royals, Catherine Walker, seen in the images shared by ITV's Georgina Brewer.
Prince George appears bemused, or simply sleepy. Airports and jet engines are very loud.
A better look at Prince George and the Duchess's hat.
From the New Zealand Herald story:
The royal couple looked happy and relaxed, despite the fog and drizzle, as they disembarked the plane and met dignitaries.

They were met by the Governor-General's Aide-de-Camp Commander Richard Walker, Prime Minister John Key and Wellington Mayor Celia Wade-Brown.
The entourage left the airport and headed to Government House for a more celebratory welcome ceremony. Emily Andrews of The Sun shared this photo on Twitter, explaining that the Maoris were welcoming William and Kate with a "traditional challenge," and that William would then "pick up a spear to be formally accepted."
Then it was time for the traditional 'hongi' welcome, the pressing of noses.
Maori elder Hiria Hape greets Kate, and then William.
As mentioned, Kate was wearing a rich red Catherine Walker ensemble.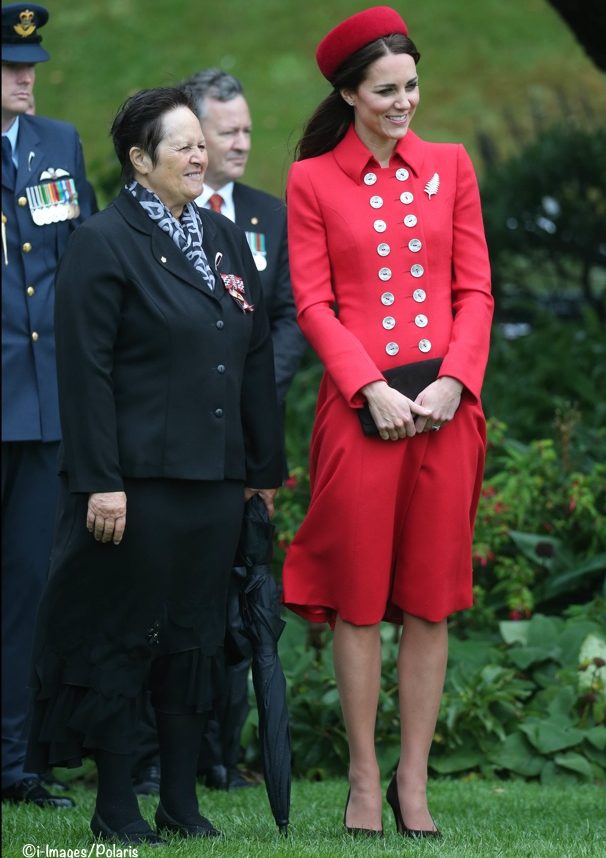 The knee-length coat was in the fit and flare silhouette Kate favors, with multiple gores helping to achieve that close fit. It was a modified double-breasted style with oversized buttons, flared sleeves, and a stand collar.
The piece is now shown in another color on the Catherine Walker website, identified as the Russian Greatcoat. It is described as a "Sharply tailored military-style coat with high collar, full skirt, and gleaming buttons."
Our thanks to Lurdes on the WKW Facebook page and My Small Obsessions for alerting us to the new images of the coat at Catherine Walker.
Kate wore two Catherine Walker styles for the N. American tour in 2011.
Catherine Walker was a favorite label of the late Diana, Princess of Wales; even Prince William has worn Catherine Walker. Below you see Diana walking to Easter Services with Prince William and Peter Phillips in 1987. Both Diana and William are wearing pale blue coats with white trim designed by Ms. Walker.

Diana wore Catherine Walker many times in both New Zealand and Australia, including a state banquet in Auckland in April of 1983.
In this image from 1997 Diana and the designer are at Kensington Palace. I believe this is from one of their sessions selecting gowns to be auctioned at Christie's as a fundraiser.

Ms. Walker founded the business in 1977 and died in 2010 at the age of 65. She designed more than 1000 gowns for Diana.
The company is doing well, managed by Ms. Walker's husband and business partner, Said Ismael. Its popularity continues to grow, especially for 'special occasions,' like weddings. Carole Middleton wore Catherine Walker for Kate and William's wedding in 2011.
Several other wedding guests also wore the brand, including Lady Gabriella Windsor and the Duchess of Kent.
Below, contemporary styles by the company.
The deep red Kate wore today and in Canada is a color favored by the brand.
The Duchess had a matching dress on beneath her coat, but we don't yet have any photos showing the frock.
UPDATED: Kate also wore a new hat by Gina Foster, a pillbox style in matching red that appears to be a bespoke piece the hat is Gina Foster's "Seaford" style.
Kate's hat is described this way:
Royal purple velour fur felt Jackie-O pillbox with felt flower trim and hot pink lining. Secured with a comb and an elastic that sits under your hair.

Seaford is made to order – it will be ready to ship in 10 to 15 days.
The hat retails for £450, roughly $750. There were several Facebook mentions and tweets suggesting this was the hat, somehow I let that get lost in the shuffle, so to speak. At least we have now published the new information.
With thanks to several readers kind enough to email and message us here at WKW InterGalactic HQ (heh-heh-heh), it looks like Kate was wearing her Emmy London brown heels and carrying her matching suede Emmy clutch.
Kate's jewelry showcased a piece many of us expected to see her wear, a glittering diamond and platinum brooch in the shape of a fern. More on the significance and symbolism of the fern via Pure New Zealand:
According to Māori legend, the silver fern once lived in the sea. It was asked to come and live in the forest to play a significant role in guiding the Māori people. Māori hunters and warriors used the silver underside of the fern leaves to find their way home. When bent over, the fronds would catch the moonlight and illuminate a path through the forest.

This distinctly New Zealand symbol is considered a badge of honour by the people, products and services of our country that carry it.
The pin is borrowed from the Queen, it was given to HM as a Christmas gift by the Women of Auckland during her 1953-54 Commonwealth Tour.
Many will recall that Kate wore a maple leaf brooch borrowed from the Queen on Canada Day in 2011, during the North American Tour, visible in one of the photos above.
The Duchess wore her Kiki McDonough Grace earrings.
Another look.
Richard Palmer of the Express noted this about the color combination:
++++++++++++++++++++++++++++++++++
A quick update about Prince George's Kangaroo backpack that sold out within minutes of it being identified: the Save the Koala Shop will be getting more in. The shop is affiliated with the Australian Koala Foundation, the group's CEO tells Rebecca English of the Daily Mail that more have been ordered:
CEO Deborah Tabart said while the organisation did not give the young prince the backpack, it would be more than happy to offer him a koala bag as a gift.

'We sold the last ones (kangaroo bags) this morning – we've had to take them off the website but we'll ordering more today,' she said.

With the bag stocked at numerous outlets, Ms Tabart said there was no way of knowing how Prince William got it, but she offered him an invitation to become the patron of the organisation on the back of his interest in conservation.

We would love it if George had a koala bag,' Ms Tabart said. The CEO also offered to extend the invitation to young George. 'He could be the patron in waiting,' Ms Tabart said of the 28-year old conservation orgnaisation.
EDITOR'S NOTE:
the post has been amended to correct the error about the Christie's auction in 1997; originally I said that event was at Sotheby's; as a commenter pointed out, that was not the case.
NEXT EVENT:
a reminder that Tuesday is an off day, with the next event taking place at Government House on Wednesday afternoon. That is not a public event, but we will still have some photos. My guesstimate for the start time is between 9-1opm EDT Tuesday night.
as an FYI, we have a clock on the right side of the page showing what time it is in New Zealand, hopefully, that will help minimize some of the time zone confusion
LINKAGE: