ALEXANDER MCQUEEN: Having survived the 2010 death of its founder, Lee Alexander McQueen, the fashion house is prospering under the guidance of Sarah Burton. Her talent and skill have played a vital role in the label's continued operation. Here is McQueen on Twitter, the company's Facebook page is here, and its Instagram page is here.
Below we share several key McQueen pieces worn by the Duchess since the couple's 2011 wedding. From left to right, the white double-breasted coat worn in June of 2011, the Sailor Dress during the couple's North American tour (also the only garment that Alexander McQueen would have been involved with, it dates back to at least 2006; the others would be by Sarah Burton), and the purple gown worn to the formal BAFTA dinner in Hollywood in July 2011. We also show the red wool crepe dress seen for the Jubilee River Pageant, and the white broderie anglaise suit worn in Singapore on William and Kate's Diamond Jubilee Tour to the South Pacific and the Far East.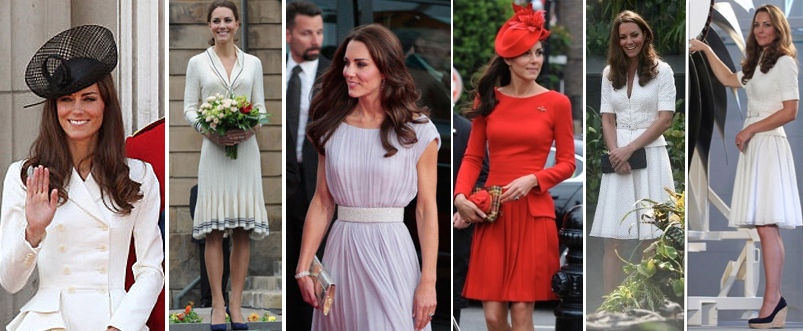 Other important pieces by Alexander McQueen include the black evening McQueen evening gown seen in 2011 for an awards ceremony, a dove grey coat for Easter Sunday 2014 in Australia, a pink dress from the label worn in South Australia, and the ensemble worn for Prince George's christening in October 2013.
Three more Alexander McQueen styles: a floral gown worn to a February 2017 BAFTA gala; a coat first worn in New Zealand in 2014 and again for an Air Cadets service in 2016; a pink dress seen at Trooping the Colour 2017.
JENNY PACKHAM: This British label celebrated its 25th anniversary in 2013 with Jenny Packham still designing and managing the brand. The company's website is here, its Facebook page here, and its Twitter feed here. Ms. Packham is as well known for her bridal gowns as she is for her red carpet-ready formalwear, she is very much a favorite of the Duchess. Below you see Kate wearing her designs for three important events: the Queen's 60th Coronation Anniversary church service in 2013, the ARK Dinner in 2011 and a Team GB pre-Olympic gala in 2012. The next four photos are all from varying royal tours.
Kate continues to choose pieces by this designer for evening wear: the Duchess made a second appearance in the inky blue Jenny Packham gown first seen at a dinner in 2013, electing to wear it to a National Portrait Gallery fundraiser in February 2014; she wore it a third time to a fundraising dinner in New York in December 2014. Other designs include a stunning blue hi-low frock worn to a Natural History Museum gala in October 2014; a royal blue gown seen at a 2016 Bollywood gala in India; a yellow day dress worn in Germany July 2017.
TEMPERLEY LONDON: A British fashion house founded by Alice Temperley in 2000, the company now has five standalone stores and the brand is available in 28 different countries. There are two primary lines, Temperley London and the Temperley Bridal Collection; the latter launched following Alice Temperley's own wedding in 2002. Additionally, there is a diffusion collection, Somerset by Alice Temperley for John Lewis. The Temperley website is here, Facebook page here, and Twitter feed here.
Two key looks for Kate from this designer: on the left, she wears the Temperley 'Amoret' gown and on the right, an ALICE by Temperley dress for a 2012 dinner in Tuvalu, the 'Beatrice'.
CATHERINE WALKER: Known for the hundreds of garments created for the late Diana, Princess of Wales, this label is becoming a favorite for the Duchess as well. The company's Twitter feed is here and its Instagram page is here. Below you see Kate wearing a coatdress for Passchendaele commemorations in 2017; at the National Service of Thanksgiving for the Queen's 90th birthday in June 2016;in a red coat and dress that were first worn in Canada in 2011, and brought back for Order of the Garter ceremonies in June 2016; on the far right you see Kate in a blue ensemble when visiting Berlin in 2017. 
More designs from Catherine Walker, including an ensemble worn when arriving in New Zealand in 2014; an elegant coat seen when the Cambridges were leaving Canada in 2016; and a coatdress at the Irish Guards St. Patrick's Day ceremony in 2017 and later that same day when arriving in Paris.
ERDEM: The Canadian-born London-based designer has become one of Kate's favorites.  Below you see (from left to right) Kate wearing the Allie coat, Darla dress, Alouette dress, a custom coat from pre-fall 2015; a pink and navy coat from Resort 2016; and the Devita dress.
EMILIA WICKSTEAD: This New Zealand born designer is also a product of the storied Central St. Martin's school, her tailored designs have rapidly become favorites for many in the UK's upper class, several guests wore pieces by Ms. Wickstead to Kate and William's wedding. Below we show the Duchess wearing a lilac dress in Germany in 2012; a white dress seen during the 2016 India tour; a customized version of the yellow Marella coat as worn to a 2012 Buckingham Palace garden party; a coat dress on St. Patrick's Day for a visit to the Irish Guards; the designer's signature pleats are seen on a deep teal dress Kate first wore when visiting New Zealand in 2014, and again for a 2015 Action on Addiction engagement.
BEULAH LONDON: Founded in 2009 as an ethical fashion company, Beulah is committed to creating elegant fashions while also helping victims of India's sex trafficking trade. The brand's website is here, its blog may be read by clicking here, its Facebook page is here and Twitter feed is here. Below we show Kate at a 2011 function wearing the red Sarai gown; on the right, she wears the Sabitri dress in powder blue silk, worn during the 2012 Jubilee Tour. Not shown, Kate in Beulah's Blossom dress, worn to a summer 2012 wedding.
GOAT FASHION: British designer Jane Lewis started Goat in 2001, creating styles epitomizing a 'less is more' design aesthetic. The brand's Facebook page is here, and its Twitter feed is here. Kate wore the label's Vreeland dress for a SportsAid event in October 2014 (left), the Scarlett dress for an M-PACT school visit in July 2014 (center), and the Redgrave coat when visiting the UK's Child Bereavement Center with Prince William in March 2013 (right).
WHISTLES: Another UK-based retailer with almost 40 stores offering womenswear and accessories, Whistles does ship to the USA, as well as many other countries. (Check here for the list.) The Whistles Facebook page is here; its Twitter feed is here. Perhaps the most noteworthy Whistles piece worn by Kate is the blouse seen in one of the couple's two formal engagement photos.
Other items item seen on the Duchess include the Whistles Jersey Knit Jacket (center right above) seen in February 2011, and the Bella Body-Conscious Dress on the far right, worn to the Diamond Jubilee Concert in June 2011 and the Closing Ceremony for the London 2012 Games in August.
REISS: Considered a premium 'high-street' store (some find it comparable to DKNY or Club Monaco), Reiss offers contemporary styles with a classic influence. The British brand has multiple US stores in the NY market, as well as shops in Boston, Los Angeles and Florida. To visit the Reiss Facebook page click here, the Twitter account is here, Pinterest account is here, and the retailer's blog is here.
Many style watchers were unfamiliar with Reiss until the couple's formal engagement photos were released, showing Kate in the "Nanette" dress (above). The dress sold out almost immediately and was re-issued by the company, with that second lot of inventory disappearing even more rapidly than the original release.
Another headline-making Reiss piece is the "Shola" dress worn for the Kate & William's meeting with President & Mrs. Obama in May of 2011. (For more, click here to read our original post.) The Duchess wore the brand's "Peacock" dress in white to the Epsom Derby in June 2011, and brought back an older piece for her first speaking engagement in March 2012, wearing the rich blue "Trina" dress from 2008.
KATHERINE HOOKER:  Referred to as a blend of "East Coast prep and contemporary English style" by the Telegraph (here), Katherine Hooker offers timeless classics in wool, cashmere, and genuine Harris Tweed. She has a shop in London but also does trunk shows and fairs. To visit the Katherine Hooker Facebook page click here, the Twitter account is here. One of Kate's more notable choices from the label, the Contrast Coat. Worn at full length in 2006 for the Cheltenham Gold Cup (below left), the coat was shortened and seen again at the couple's first joint appearance following the announcement of their engagement, when they christened a lifeboat in February 2011 (below center). On the right you see Kate wearing the Alexander Jacket at Cheltenham in 2007.
ISSA LONDON: Issa is designed by Daniella Helayel, a Brazilian-born designer. The brand is carried in many upscale shops; the brand launched its own ecommerce site in the fall of 2012. Its Facebook page is here, and Twitter feed is here.
Kate wore the brand for many years before her engagement to Prince William, although many immediately think of the iconic wrap dress worn for the engagement announcement when hearing this designer's name. The blue silk jersey knit dress has been re-issued and occasionally available at upscale retailers and Issa.
Kate has worn the label's knit gowns to many formal events. Below she is also seen in Issa at a friend's wedding in October 2010, the Bird Print dress seen the night before her wedding to Prince William (and on many other occasions) and in Canada on the Royal Tour in 2011.
Another dress re-issued by the label, the black silk V-neck Kate wore when shopping just a few days before her wedding.
It is doubtful the Duchess will be seen wearing the brand again; Camilla Fayed joined the business as Chairwoman in 2011 and now owns a controlling number of shares, Ms. Fayed's father and the Queen are on very poor terms. UPDATED: After this post was written the company was sold and closed. House of Fraser, a British retailer, purchased the name and now offers its own Issa London collection. It includes a great repliKate for the blue engagement dress, the style is called the Darcy.