With Kate and William's anniversary upon us I thought it would be nice to take a look back to 2011 and Kate's wedding gowns. Five years ago tonight many of us were setting alarms for an early start the next morning, while Kate and the rest of the Middletons were at London's Goring Hotel.
We first saw Kate in the Queen's Bentley, on her way to Westminster Abbey with her father, Michael Middleton.
In this photo it almost looked like Kate was having a few 'cleansing breaths,' although she actually appeared very calm and composed the entire day.
The train on Kate's gown was just under nine feet. That expanse of fabric was well handled by Maid of Honour Pippa Middleton.
A wave and a smile.
Final adjustments.
A better look at precisely what Sarah Burton is arranging.
Michael Middleton's face spoke volumes.
This offers a nice look at the Cartier 'Halo' tiara. Kate's silk tulle veil was embroidered by the craftspeople at the Royal School of Needlework, based at Hampton Court Palace. (The majority of the lace was made in France at the historic Sophie Hallette factory, then affixed to the dress by Royal School personnel.)
The expression on William's face is dear.
A shared smile before heading up the aisle.
There must have been some relief at this point for the newlyweds, knowing the first of the day's big events was behind them.
Kate was radiant.
The younger members of the wedding party arriving at Buckingham Palace.
Another look at the train.
The receiving line.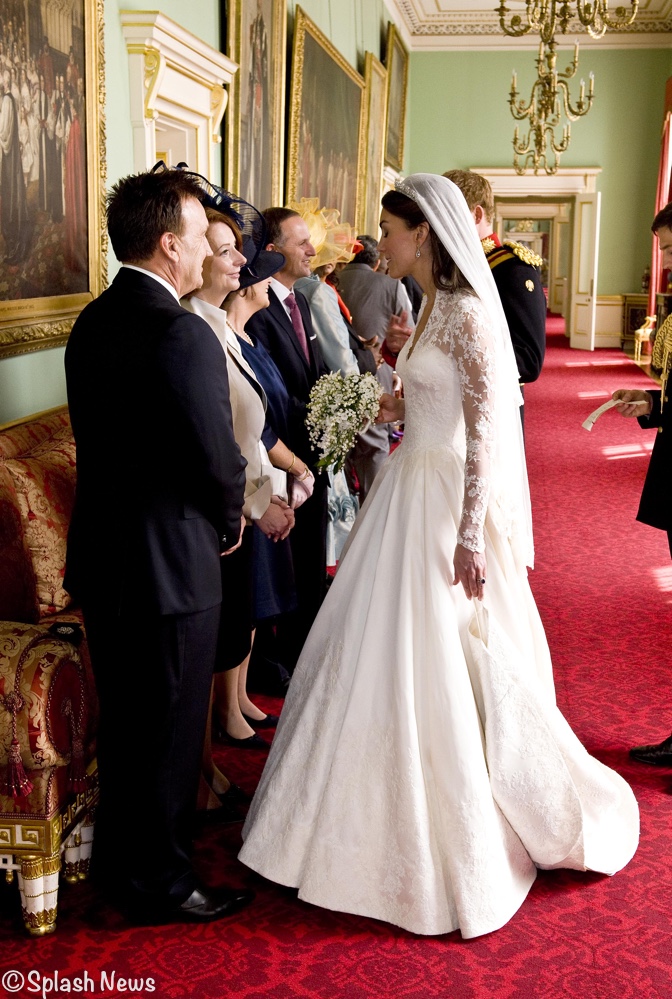 The long-awaited appearance on the Palace's iconic balcony.
Most enjoyed the military flypast.
But little Grace van Cutsem was underwhelmed.
A breeze lifted Kate's veil as she returned inside, it looked very pretty in the video clips.
Later that afternoon it was time for a royal version of the "Just Married" drive.
That evening there was a private reception for families and friends.
The Duchess was in a second gown by Sarah Burton.
This is a photo I hadn't previously seen, it seems to do a good job summing up the day.
This BBC clip runs about 3:40.

And this 8-minute video was tweeted by Kensington Palace this morning.
The Duke and Duchess of Cambridge make their vows in front of 1,900 wedding guests @wabbeyhttps://t.co/YK7ScGLiqU

— Kensington Palace (@KensingtonRoyal) April 29, 2016
We will see you with another tour post this weekend.
LINKAGE: