The Duchess was in blue for day two of the visit to Northern Ireland.
The day's first engagement was at Hillsborough Castle, where the Duke and Duchess had a private meeting with officers and staff from the Police Service in Northern Ireland.
The couple heard about the unique challenges encountered by law enforcement personnel.
Here is a quick video with Chief Constable George Hamilton talking about meeting with the Cambridges.
'Police officers apppreciated the Duke & Duchess of Cambridge taking time out today to listen to the challenges they face' said @ChiefConPSNI following their meeting this morning at Hillsborough Castle @HRP_palaces @KensingtonRoyal @PoliceServiceNI #RoyalVisitNI pic.twitter.com/Otyh7yX1Qu

— Northern Ireland Office (@NIOgov) February 28, 2019
The next stop was the Braid Arts Centre.
ITV reports the Baron and Baroness Carrickfergus (as they are titled here) were greeted by hundreds of cheering well-wishers when they arrived.
Kate and William did a walkabout.
ITV's Lizzie Robinson tweeted a quick video.
The Duke and Duchess of Cambridge during a walkabout outside the Braid Arts Centre in Ballymena on day two of #RoyalVisitNI pic.twitter.com/ra3OPl1zD3

— Lizzie Robinson (@LizzieITV) February 28, 2019
As ever, the Duchess is very much in her element on these.
Valentine Low of The Times tweeted a photo of Hannah, who is 9 years old. She is doing a biography on the Duchess for a school project.
This is Hannah Ritchie, who has succeeded where others – including myself – have failed: she landed an interview with the Duchess of Cambridge. pic.twitter.com/tjdTrkYjhg

— Valentine Low (@valentinelow) February 28, 2019
More about Hannah's encounter from Hannah Furness's story in The Telegraph.
Teacher Susan McKeegan said: "I told her that in literacy we are doing biography, and one of my pupils is doing a biography about her. She asked who the pupil was. I introduced her to Hannah.

"She very nicely went over and spoke to her, and asked if she had any questions."

H

annah said: "I asked if she liked being a princess, and is the palace big?

"She said she liked being a princess because she can travel around the world and meet all the lovely children. She gets to talk to them – she loves meeting and talking to the children."

The Duchess told her: "I love working with young people. Everyone is so brave and strong in some of the places we go. It's very nice to meet you. Good luck with the biography!"
Mr. Low also posted a video of Hannah and the Duchess having that conversation.
This is Kate telling Hannah what she likes about being a princess. Video courtesy of Bronagh Dobbin. pic.twitter.com/QsVW6BesG0

— Valentine Low (@valentinelow) February 28, 2019
Kate was also taken by an infant she met; The Telegraph has more:
During a walkabout in Ballymena, Northern Ireland, the Duchess met five-month-old baby James Barr and told his father Alan: "He's gorgeous. It makes me feel a broody."

To which Mr Barr asked: "Baby number four?" The Duchess laughed and conceded: "I think William would be little worried."
This video includes Kate's conversation with Mr. Barr.
🎥 Little James Barr was a huge hit with the Duchess of Cambridge here in Ballymena.

Kate Middleton joked that he's "making her feel broody"! 👶🏼 pic.twitter.com/LRRVK137zD

— Damien Edgar (@damien_edgar7) February 28, 2019
They were at the Braid Centre to learn about Cinemagic, a charity using the visual arts to increase opportunities and develop skills for young people from all backgrounds.
More from The Daily Mail:
They also watched young budding directors and producers as they practised shooting a film.

The Duke and Duchess chatted to the Cinemagic members as they demonstrated the software used to help create programmes and films.
Below, hearing more about Cinemagic.
Kate working with children in a workshop at Cinemagic.
🎞 The Duchess of Cambridge joins a @Cinemagic make-up demonstration and storyboard masterclass demonstration with children from Malvern Primary School #RoyalVisitNI pic.twitter.com/JkKqeHVahN

— Kensington Palace (@KensingtonRoyal) February 28, 2019
A still shot of the Duchess and the children in the makeup workshop.

The couple watched a Musical Theatre performance.
And spent time watching young producers and directors working on a film. 
Below, speaking with some of the participants from the show.  
A group photo before leaving. 
The final engagement today was at Sure Start, a government program that supports parents with children aged under four years old living in disadvantaged areas in Northern Ireland.
Below, the Duke and Duchess with a program administrator. 
And meeting one of the children benefiting from the program.
The Duke and Duchess took part in a number of activities with children.
Kate helped this little one blow on the candles on her 'cake.' 
From the a/w 2018 collection, the piece is described as a reinterpretation of the classic trench coat. The garment's most distinctive design element is the removable cape; it also features an oversized collar, self-belt, slanted front pockets and large buttons. Here is how the coat looked in Mulberry's promotional shots; the coral or salmon almost looks like it is done in velour.
Interestingly, the official color name for Kate's coat is lavender blue. Many thanks to
Laura (aka Japanese Ginger)
for her speedy ID work!
You can see why there were references on social media to the Beauxbatons from the Harry Potter novels.
To a lesser extent, there were comments about 
Mary Poppins Returns
. This is probably inevitable given how infrequently we see the Duchess in a cape, let alone as part of a coat.
Kate's dress is a new bespoke dress by Jenny Packham.
It is a basic sheath in what *might* be a knit fabric, accented by navy blue velvet trim at the neckline, cuffs and a wider strip at the waist.
Kate also had on her diamond and sapphire earrings (see inset photo below left). 
And a wave goodbye.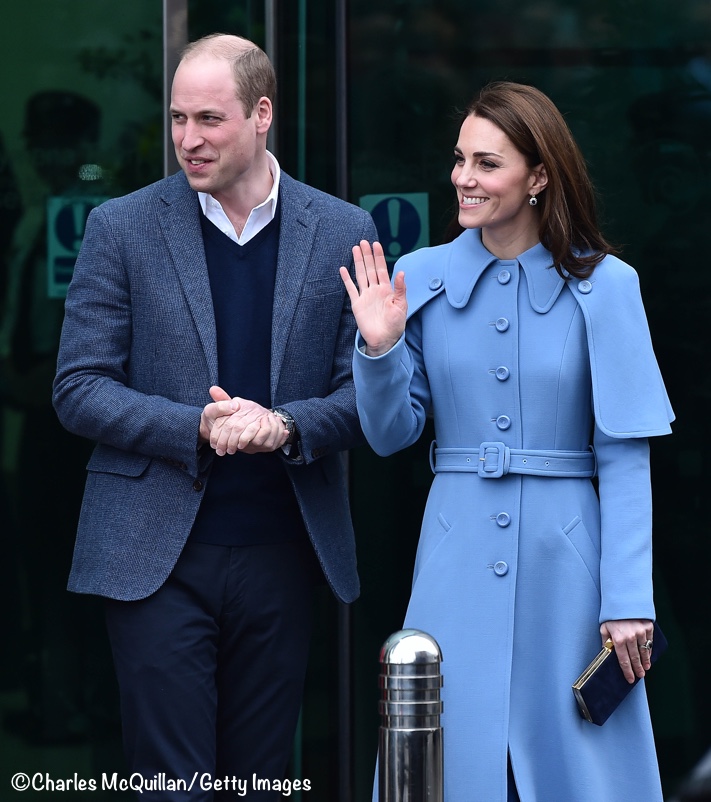 This piece is just a bit less than two minutes and covers the walkabout.