The Duchess was in a mix of pieces for today's King's Cup in Cowes, Isle of Wight. Justine Edwards tweeted photos of the Duke and Duchess as they were welcomed.
Another view.
Lovely pictures of the Duchess of Cambridge as she and Prince William arrive in Cowes ahead of the King's Cuphttps://t.co/nhBmwTX1z5 pic.twitter.com/Ea30WxTO7t

— Johnny Goldsmith (@MirrorJohnny) August 8, 2019
The Duchess switched to race gear shortly after arriving.
We were surprised by special spectators, including Prince George.
The Prince sported a captain's cap at a jaunty angle. It looks like he has lost a few teeth since we last saw him. Also watching the races, Princess Charlotte.
Hannah Furness reports in The Telegraph the children spent the morning "…at a local fair to take part in a tug'o'war, balloon and bubble making, and learning how to be a pirate." Catherine Wylie of the UK Press Association tweeted that Prince Louis was also in Cowes, most likely with nanny Maria Borrallo while the older children were out on the water.
The race was originally scheduled for tomorrow, but weather reports called for very heavy rain and strong winds so it was bumped up a day. A look at conditions just before today's races got underway.
The Duke and Duchess were skippering boats that were part of an eight-boat regatta, with each boat representing a charity. All eight had celebrity ambassadors, with Kate representing the Royal Foundation and William sailing on behalf of Child Bereavement UK. The other celebrity ambassadors seen below included (from left to right): John Bishop, comedian, Action on Addiction; Fara Williams, soccer player, Centrepoint; Katie Thistleton, BBC Radio presenter, Place2Be; Helen Glover, Olympic Rowing Champion, the Anna Freud Centre; Bear Grylls, outdoorsman/television presenter, Tusk; Dan Snow, historian and television presenter, London Air Ambulance.
via Kensington Palace
Justine Edwards also shared a photo of the Duke and Duchess as they headed out on the water.
The historic King's Cup was first presented by King George V in 1920. Below, the King at the helm during the 1924 King's Cup.
A wave and a smile from the Duchess.

And the same from Prince William.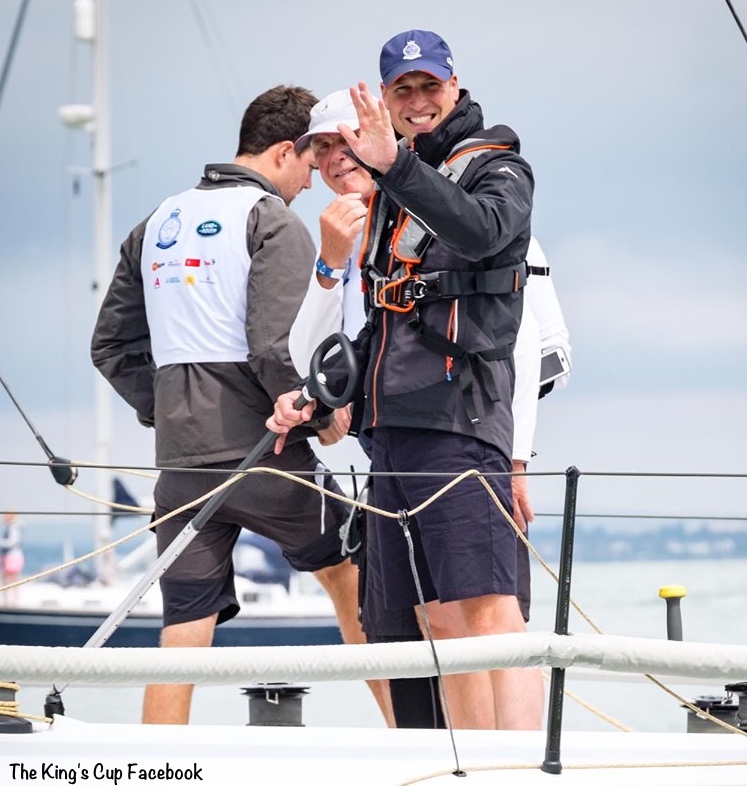 Today's event is being held just ahead of the annual Cowes Week, the world's oldest and largest sailing regatta. The races are overseen by the Royal Yacht Squadron and they are started with a traditional canon shot.
Emily Nash of Hello! tweeted the race start.
And they're off! The #KingsCup is underway here in Cowes, William and Kate are racing head to head for their charities @cbukhelp and The Royal Foundation in an 8-boat regatta. More on my Insta stories! #DukeandDuchessofCambridge pic.twitter.com/cHHGMbpPQX

— Emily Nash (@emynash) August 8, 2019
Prince George watching the action with grandfather Michael Middleton.
More from Kensington Palace:
The Duke and Duchess are strong advocates for sport, and have undertaken work both in the UK and overseas to highlight the positive impact that sport can have on the individual and within local communities.
The Duchess in particular champions how the benefits of sport, nature and the outdoors can impact childhood development, and lead to improved physical and mental wellbeing for all.
Their Royal Highnesses hope that The King's Cup will become an annual event, bringing greater awareness to the wider benefits of sport, whist also raising support and funds for the causes that the Duke and Duchess support.
Kate is an accomplished sailor. You can just see her on the far right in this photo.
Another look at Prince George.
There were two races today; more from People's coverage:
Tusk Trust, with Bear Grylls at the helm, won the first race, with Prince William coming in third and Kate placing seventh. William's team came in fifth during the second race, while Kate's team was disqualified for starting too early.
Kate's team wasn't the only one DQed for the second race. The Lancaster and Morecambe Citizen reported, "And in the second race, many boats – including Kate's – were disqualified for not going back and starting the race at the line." Ultimately the Tusk boat was victorious with celebrity ambassador Bear Grylls at the helm.
Below, Carole Middleton, Charlotte, and Kate on their way to the presentation of the awards.
Bear Grylls (far left) and Team Tusk with the King's Cup.
Kate's award: a wooden spoon.
Kate contemplates her 'award'.
UPDATE AUG 9: With thanks to Bonnie and Laila, we now know the significance of the wooden spoon. Per Wikipedia: "A wooden spoon is an award that is given to an individual or team who/which has come last in a competition. The term is of British origin and has spread to other Commonwealth countries outside North America. The wooden spoon was presented originally at the University of Cambridge as a kind of booby prize awarded by the students to the man who achieved the lowest exam marks but still earned a third-class degree….". (I don't accept Wikipedia as gospel but am comfortable citing it in this case.)
It may be a while before she hears the end of this one!
Another view of the couple via Justine Edwards on Twitter.
Now for what Kate wore. The Duchess was in Sandro and LK Bennett when she arrived.
The Sandro Frill Knit Top is a cotton/viscose blend in a colorway officially called 'Terracotta,' with flared and frilled trim at the sleeves and hem. Originally $190, most recently it was on sale for $95. Our thanks to Caroline P. Parr of The Daily Mail for her ID of the top.
Many recognized Kate's trousers, the LK Bennett Parker style worn for the May King's Cup announcement.
The Duchess accessorized her arrival outfit with the Superga Cotu Classic sneakers ($65) she is so fond of, shown below when worn to a previous engagement.
The crews were outfitted in special King's Cup designs by Gill Marine, a longtime manufacturer of technical sailing gear. It looks like Kate and other women wore a version of the brand's SailGP Polo ($60).
Their jackets look like the Team Softshell Jacket ($155) in the silver-grey color. It is a nylon/elastane softshell design with a fleece lining, exterior zippered pocket and adjustable cuffs and hem.
Kate changed into the New Balance 611 cross-trainer in grey (officially 'quarry') with a synthetic upper and NB Memory Sole Comfort insert. Thank you to Laura for her speedy ID of the shoes.
For our Canadian friends, Carolyn pointed out on Twitter that the style is on sale at Sportchek (CA $66.95, about USD $50).
When on the water, Kate put her hair in a ponytail.
She appeared to be wearing a custom version of this Gill Marine SailGP Race Cap ($40).
The 100% nylon hat is water and sun-repellant, with a wicking inner headband and back retainer cord. Thank you to Katie for her ID of the hat!
Kate also brought back her Kiki McDonough 'Lauren' earrings. The pavé diamond style is out of stock at Kiki McDonough; we show the earrings at Neiman Marcus ($3435).
This is not What William Wore, but I had an email asking about the Duke's trainers. I was clueless, but fortunately, Irish Sara identified them as also being by Gill, the brand's Mawgan Trainer ($99.95).
We'll leave you with one more shot of Prince George and Princess Charlotte….
As well as the Duke and Duchess…
And one more of Kate.
Our post on George and Charlotte's day at the races is here at sister site What Kate's Kids Wore.
VIDEOS:
The Royal Family Channel's video is about 3:15 in length.

This Hello! video has roughly 1:10 of the racing.

This video is from the May engagement when the announcement about the race was made. It runs about 3:30.

LINKAGE: