The Duchess wore a dress by RIXO as the Cambridge children started at a new school this afternoon.
Prince George, Princess Charlotte, and Prince Louis attended a "settling-in afternoon" with their parents at Lambrook School. "Settling-in" is an annual event welcoming new students and their families to the school and held the day before the new term begins. Here is a video of the family as they arrived.
🎥 WATCH: Prince George, Princess Charlotte and Prince Louis arrived at Lambrook School with the Duke and Duchess of Cambridge earlier today. They attended a "settling in afternoon" for new pupils and will officially start school tomorrow 📚 pic.twitter.com/sLFipBaA3w

— Lizzie Robinson (@LizzieITV) September 7, 2022
Below, Princess Charlotte shakes the hand of Headmaster Jonathan Perry.
The private coed school is located near Ascot in Berkshire. The change comes as part of a bigger move for the family, the relocation of its private residence from Kensington Palace to Adelaide Cottage, a four-bedroom property on the Windsor grounds. More from the BBC's coverage:
It marks a new chapter according to their friends, an attempt to ensure as normal an upbringing as possible for their three children. William and Catherine want privacy and a rural setting for themselves and their three children – George, nine, Charlotte, seven, and four-year-old Louis.

No major refurbishment will be required and the inevitable security considerations have all apparently been satisfied.

But now their principal home will be where they hope their family can enjoy as uninterrupted a life as possible.
The move puts them about a mile from the Queen's residence at Windsor Castle, and roughly 30 to 40 minutes from the Duchess's parents, Michael and Carole Middleton.
Victoria Murphy's story in Town and Country.
The move, which a Palace source said has been driven by their desire to have as normal a family life as possible, allows William and Kate the opportunity to offer their children a more rural upbringing away from central London and the hustle and bustle of Kensington Palace, which is a popular tourist attraction.

Adelaide Cottage was originally built for Queen Adelaide, the wife of King William IV, in 1831, using building materials from the Royal Lodge, according to the Royal Collection. The royal retreat has been used by a number of monarchs: Queen Victoria often visited the cottage for breakfast or tea.

Apartment 1a at Kensington Palace will remain the family's London home and they are also keeping Anmer Hall in Norfolk.
And from The Daily Mail's coverage.
The Duke and Duchess of Cambridge reportedly want to be normal 'school gate parents' and their children's school uniforms have already been purchased.

William and Kate are seeking a life in the country away from the 'goldfish bowl' of their official residence Kensington Palace in London in a bid to put their children first and give them more freedom.

Also moving with the family-of-five was beloved pet cocker spaniel Orla.
Returning to the school topic, many will remember the two oldest children previously attended Thomas's Battersea in London. Below, Prince George on his first day at school in September 2017.(The Duchess was unable to take part in George's first day because she was ill with Hyperemesis Gravidarum while expecting Prince Louis.)
Princess Charlotte on her first day at Thomas's in September 2019.
Another photo from September 2019 shows the two children together.
And a shot from the steps of Kensington Palace in 2019.
From a Kensington Palace statement: "Their Royal Highnesses are hugely grateful to Thomas's Battersea where George and Charlotte have had a happy start to their education since 2017 and 2019 respectively and are pleased to have found a school for all three of their children which shares a similar ethos and values to Thomas's."
Here you see Prince Louis all ready for his first day at Willcocks Nursery School last year in a photo shared for his third birthday.
Returning to today's events, George will be in year five, Charlotte in year three and Louis will be in the nursery. It isn't known if Prince Louis is attending full-day or half-day nursery school. This is the first time all three children will be enrolled at the same school at the same time. From The Telegraph's story by Hannah Furness.
If he was fazed by counting a future king and his siblings among his pupils, the school's headmaster did not show it.

"Welcome to Lambrook," Jonathan Perry told them, addressing each by their first name only as he shook their hands in turn.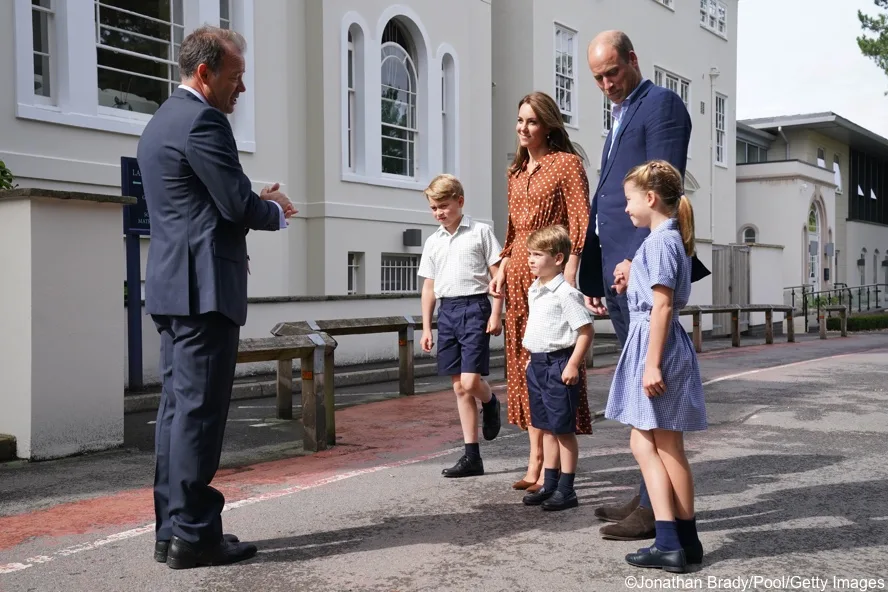 More from The Mirror's story.
Prince William described his family as "the gang" as he dropped off his three children for their first day at school with wife Kate.

Prince George, Princess Charlotte and Prince Louis told how they were "excited" to start their new school together, as they were welcomed with a firm handshake from their headmaster.

The Duchess, who appeared to know Mr Perry and his wife well after the long process of choosing the right school, greeted them like an old friend, saying: "Nice to see you, Mr Perry!"
The children did look excited in many photos and much of the video.
The school is set on more than fifty acres of property and takes students ages 3 – 13. People reports in this story, "On the academic side, lessons are just 35-minutes long, and students are mixed in grades of ability rather than age."
Embed from Getty Images
Some history about the school from the Lambrook site:
There has been a private school at Winkfield Row since 1860 when Robert Burnside acquired Lambrook House with an eye on tutoring the sons of courtiers of Windsor Castle. 140 years ago, in 1878, two of Queen Victoria's grandsons, Prince Christian Victor and Prince Albert of Schleswig-Holstein, were pupils at Lambrook. Queen Victoria used to travel from Windsor Castle to Lambrook to watch her grandsons in plays and cricket matches. She is known to have parked her carriage where our new Queen's building now stands, and watch them from there.
More from The Mirror's story.
With 620 pupils, it is a larger than average pre-prep and prep school but billed as not as pushy as its London counterparts, with some of its intake being bussed in from west London and Oxfordshire, Buckinghamshire and Surrey.

Lambrook offers weekly and flexi-boarding for boys and girls aged seven onwards, with the Duke and Duchess of Cambridge having the option to let George and Charlotte stay as little as one night a week on an ad-hoc basis, with the sleepovers booked online.
More about the school from this Hello piece.
One big difference for them to adjust to is that at Lambrook, classes don't only take place in the week but on Saturdays, too! Saturday classes take place for pupils from year five onwards, meaning that George will be the first of the three to take part.

It will also become compulsory for him to take Latin. Lambrook offers a wide range of subjects for its pupils, so George, nine, and Charlotte, seven, will have lessons in English, Maths, French, Science, Greek, History, Geography, ICT, Art, Design & Technology, Drama, Music, RS, PE, Swimming and Games.
Now for a look at what Kate wore, beginning with a dress that may look familiar, by RIXO.
She was in the brand's Izzy Polka Dot Shirtdress ($305.77) in a colorway called copper. It is shown as being sold out on the RIXO site ($276), but you can sign up for an email notification when it is available again.
It is described as being made of 100% sustainable viscose and features a button-front bodice, pleated skirt, bracelet-length puffed sleeves with elastic at the cuff, and a hidden side zipper. I said it may look familiar because the Duchess wore this style in pink and white while visiting the Bahamas in March.
The Duchess's shoes look like the pair worn at Royal Ascot this year, which we initially thought were a pair of Gianvito Rossi, but a closeup of the sole shows a different brand name.
UPDATE: Carly at Kate Middleton Style points out the shoes have a dark heel cap which the Rossi style does not have.
As best I could tell from the photos, it looks like the Duchess wore her Annoushka Pearl Drops ($480) suspended from her Kiki McDonough Hoops (£600, about $695 at today's exchange rates).
++++++++++++++++++++++++++++++++++++++
A quick update on HM, who is shown yesterday as she greeted the UK's Conservative Party leader and new Prime Minister, Liz Truss. Prior to this meeting, outgoing PM Boris Johnson met with The Queen to officially tender his resignation.
She was scheduled to virtually attend a Privy Council meeting tonight, but her doctors have recommended she rest. More from The Telegraph.
At the age of 96, she has been enduring ongoing "episodic mobility issues" which are understood to have become worse over the last few weeks.

But a Buckingham Palace spokesman said: "After a full day yesterday, Her Majesty has this afternoon accepted doctors' advice to rest.

"This means that the Privy Council meeting that had been due to take place this evening will be rearranged."
HM is wearing the Balmoral Tartan in the photo shown above.
UPDATE THURSDAY MORNING: I have difficult news to share this morning with word that Buckingham Palace has issued a statement about the Queen's health:
"Following further evaluation this morning, The Queen's doctors are concerned for Her Majesty's health and have recommended she remain under medical supervision.

The Queen remains comfortable and at Balmoral."
Prince Charles, the Duchess of Cornwall, and Prince William have traveled to Balmoral. Princess Anne is already there, and the media also report that Prince Andrew and Prince Edward are headed to Balmoral. Below, a statement from Prime Minister Liz Truss.
And from the Archbishop of Canterbury.