Kate brought back the popular Lasa Poppies dress by LK Bennett for today's events in Luton, Bedfordshire.
Kate and William had three engagements in the community located about an hour north of London.
The first was at Youthscape, a drop-in center for young people. More from the Youthscape website.
At the heart is our work in local high schools, supporting curriculum areas as well as working with teenagers individually.

Youthscape is divided into Projects, each with their own staff team. In addition, a small central team provides financial, HR and administrative support across the whole organisation.
Youthscape recently moved into Bute Mills, a historic industrial building in the heart of the city. From The Telegraph's story:
The centre reopened in April after a £3.2 million revamp. It was designed for the organisation as a national hub for its work. Founded in 1993, the charity specialises in young people's social, emotional and spiritual development.
The Daily Mail reports that Kate and William "toured kitchens used by young people after school and met some of the students." They also nibbled on confections created by the students.
More from Us Weekly:
This smells seriously good," Duchess Kate, clad in a blue and white L.K. Bennett dress, asked about their chocolate rice crispy creation. "What are you putting in? Is this just chocolate? Golden syrup? Good, good."

"When I try to do this with George at home, chocolate and the golden syrup goes everywhere," the stylish duchess said. "He makes so much mess. It's chaos."
I think 'golden syrup' might be what we call corn syrup, perhaps one of our readers can say if this is the case. Many thanks to those emailing and also sharing via their comments that Golden Syrup is different from corn syrup, it is a treacle (uncrystallized syrup), a form of sugar syrup. It is commonly used in making sweet recipes, Lyle's Golden Syrup is available online at Amazon.
The Prince also played a little snooker.
The couple watched a session with an online support group run by Self Harm UK, an offshoot of Youthscape. More from Simon Perry's story in People:
Touring the building, a key project they saw was an innovative one to support those young people who self-harm. "Alumina" is an online self-referral system – a first step on the road to recovery for some young people, Youthscape says.
An interesting sidebar, the woman you see above right happens to be Ruth Corden, sister of entertainer James Corden. (Thank you to @Anna of HRH The Duchess of Cambridge blog for the tip on this.) In addition to its work with young people, Youthscape is also a nationally recognized training center. Below, the Duke and Duchess in front of the Innovation Wall, where new ideas are posted for consideration.
Today was the official opening of the Youthscape facility, William and Kate unveiled a graphic on one of the walls to commemorate their visit and the opening.
Next, an interfaith discussion with the Luton Council of Faiths, Grassroots and Our Minds Matter.
The duo also met representatives of CHUMS, an organization providing bereavement, trauma and emotional wellbeing services to children and young people in the area. Below, CHUMS elephants given to Kate and William for George and Charlotte.
Kate accepting a lovely bouquet of flowers as she leaves Bute Mills with William.
The Duke and Duchess then visited Keech Hospice, offering services for children and adults confronting life-limiting and terminal illness.
It costs £5.3 million every year to operate the facility and more than 70% of this funding comes from the community.
Kate and William met patients, caregivers, staff, and volunteers.
They also met with families receiving post-bereavement care.
More from The News and Star:
During a visit to Keech Hospice Care in Luton, William sympathetically rested his hand on the shoulder of Ben Hines, 14, who lost his own mother Alexandra in June 2015 at the age of 40. Recalling dealing with his bereavement on the eve of the 19th anniversary of Diana's death, William advised Ben and his family to stick together through their grief. The teenager, who was the youngest of the three brothers that met the royal couple and who suffers from autism, explained to the Duke how he was struggling with the loss.
Before leaving the family, whom he met as part of a tour of the hospice as it celebrates its 25th anniversary, William said: "Promise me you will talk to each other." Thomas Hines, the 20-year-old brother to Ben, replied to William: "I promise, sir." The Duke of Cambridge rested his hand on Ben's arm once more before standing up.
This is the Hospice's 25th anniversary year.
William had the honor of cutting a cake celebrating that milestone at today's event.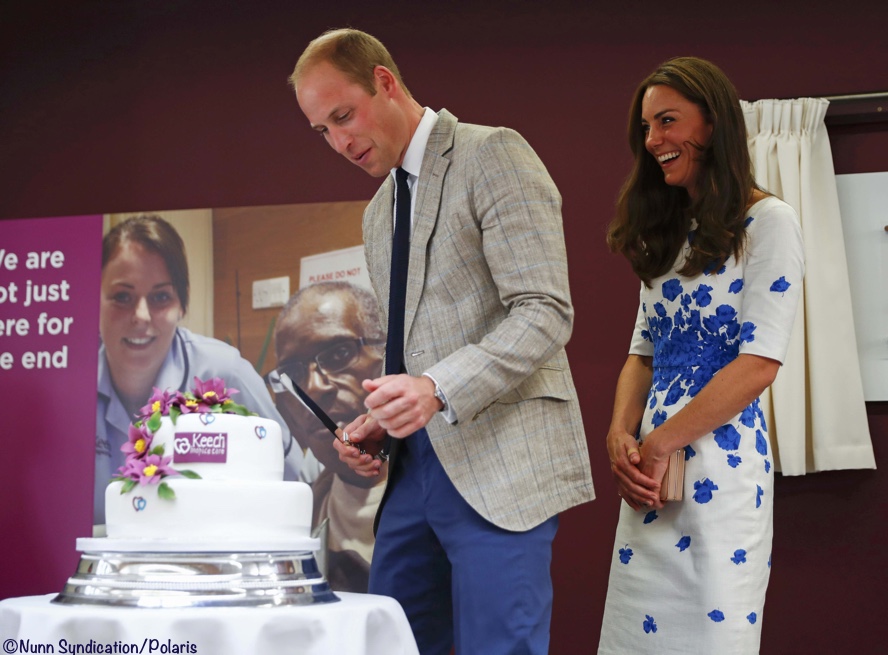 The pair as they were leaving the Hospice. That's 7-year-old Evie Farmer presenting Kate with a posy, her 9-year-old brother Charlie has multiple illnesses requiring 24-hour care.
The day's third engagement was at Hayward Tyler, a motor manufacturing firm. Below you see the couple meeting apprentices training with the company, along with graduates of the training program.
The company officially opened an upgraded manufacturing facility today. More from Richard Palmer's story in The Express:
William and Kate were visiting the factory to present Hayward Tyler with the Queen's Award for Enterprise for its success in international trade.
Now to what Kate wore, a piece that many fashion followers immediately recognized as the 'Lasa Poppies' dress from LK Bennett.
The frock was first seen when Kate and William visited an Australian Air Force base in 2014.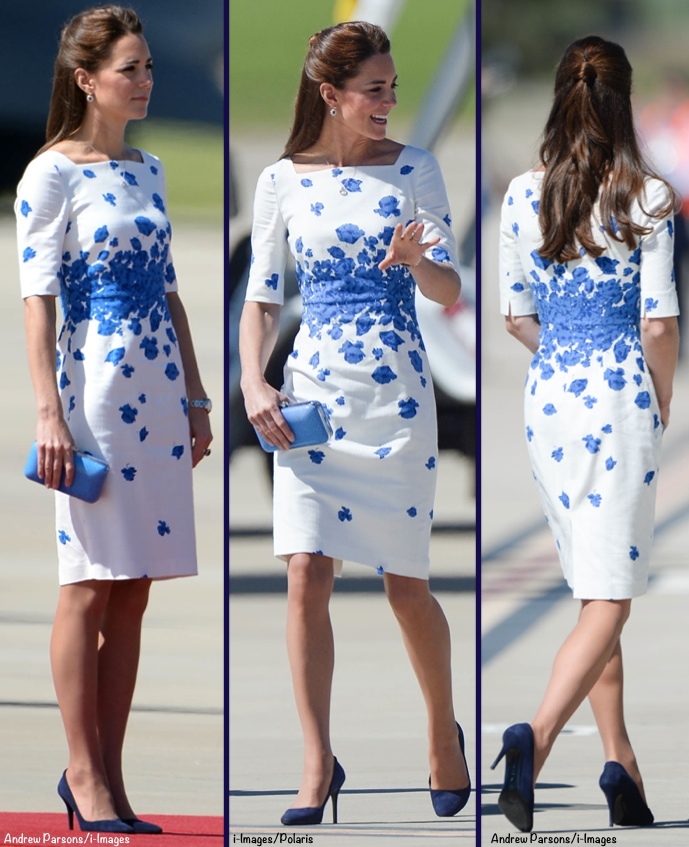 Kate's dress is a classic sheath with a squared neckline, vent at the back hem, and notched sleeves. It's a blend of 67% cotton/32% viscose/1% elastane, and in 2014 the garment was $425 in the US, £245 in the UK. The piece was reissued last year in an almost identical color called cornflower blue and named the 'Lara' instead of the 'Lasa'. (The original color was Snorkel Blue.) If I recall correctly the Lara was originally offered only at John Lewis.
It is available in very limited sizing on the LK Bennett US/CAN site ($350).
As noted in the top of the post, Kate was in LK Bennett top to toe. In addition to the dress, she wore LK Bennett's Fern pumps ($345).
And carried the brand's Nina clutch ($325).
Kate wore her sapphire and diamond earrings.
This is a good look for the Duchess, although I am biased – this is one of my favorite LK Bennett dresses.
But I concur with those favoring the blue accessories seen in Australia as opposed to today's neutral pieces.
The Duke and Duchess's next scheduled engagements are September 1st and 2nd, that's Thursday and Friday of next week.
We'll leave you with this video.
Wills and Kate meeting families who's children are looked after @KeechHospice #Luton for its 25thbirthday #HeartNews pic.twitter.com/ecWBOB20qf

— Four Counties News (@Heart4CNews) August 24, 2016
LINKAGE: