Kate, William, George and Charlotte were a symphony of blue for today's arrival in Canada.
From The Daily Mail:
As they walked down the steps William could be heard to tell George to 'watch the step'.
A quick video of the family as they leave the Royal Canadian Air Force jet that brought them from London to Victoria, British Columbia.
Thank you to the @RCAF_ARC who flew the family safely to Victoria. pic.twitter.com/2wEhjaqNCd

— Kensington Palace (@KensingtonRoyal) September 24, 2016
The royals were greeted by Prime Minister Justin Trudeau and his wife Sophie Grégoire Trudeau, Governor General David Johnston and Sharon Johnston, British Columbia Premier Christy Clark.
Of course, both Charlotte and George were a big hit.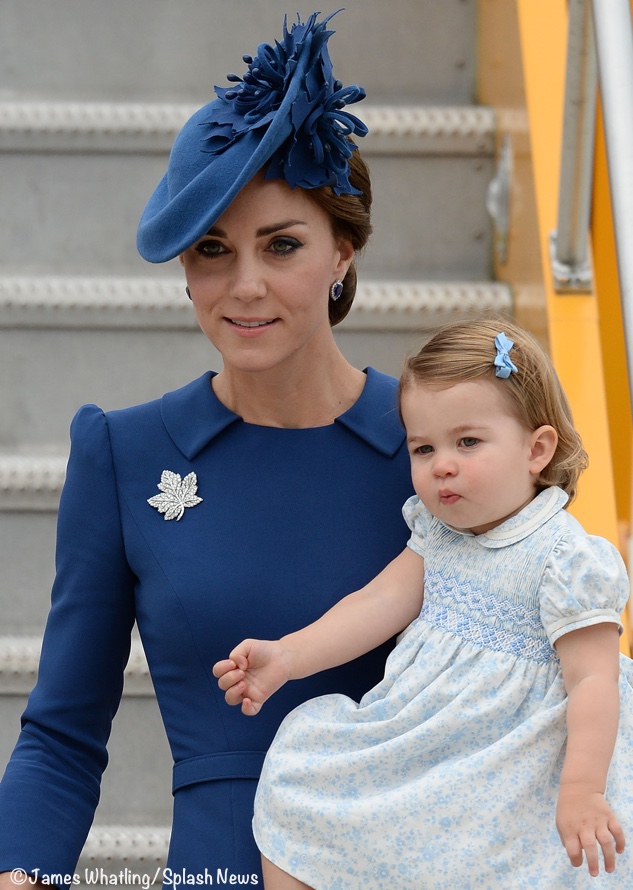 From The Telegraph:
Prince George, three, held the Duke's hand as he carefully climbed down to the tarmac, looking a little wary and clutching his mother's skirt before becoming absorbed with his new admirers and the military base around him. The Duchess kept a close eye on three-year-old George, at one point asking him whether he was "okay" as she crouched down to stroke his hair.
Here you see all the different shades of blue worn by the family today.
The family then traveled to Government House, where they will be staying for the week. From The Telegraph:
After seeing the children settled in, the Duke and Duchess then travelled to an official welcoming ceremony at the British Columbia Parliament Buildings.
From left to right: BC Lieutenant Governor Judith Guichon, Governor General David Johnston, Sharon Johnston, Kate, William, Prime Minister Justin Trudeau, Sophie Gregoire Trudeau, BC Premier Christy Clark.
From the National Post:
Hundreds of people lined blue gates criss-crossing the legislature lawn, many sporting small Canadian and British Columbia flags in their hands, hats or hair. Many had been waiting since noon, more than five hours before the royal couple's scheduled arrival.
Placing a wreath at the Cenotaph.
William and Kate paid respects at Victoria's Cenotaph and unveiled a new plaque paying tribute to the Canadian veterans who were involved in the Afghanistan conflict.
The message with the wreath.
Prince William addressing the dignitaries.
From Hello! Canada:
William said that both he and Kate were "delighted" to be back in Canada, the country they first toured as newlyweds in 2011.
"We are so pleased that George and Charlotte can be with us… beginning their own lifetime of friendship with this wonderful country," he said. "Catherine and I have asked to meet as many people from as many walks of life as we can while we are here."
As is often the case, the pair seemed to enjoy themselves.
The Duchess was a hit with the crowds.
Kate meeting Vicki, a 14-year-old having a wish fulfilled by the Children's Wish Foundation of Canada. The Foundation grants wishes to children with life-threatening diseases, similar to Make-a-Wish. Vicki's wish: meeting the royal family.
Here you see William with Governor General David Johnston just to his right.
The Duke and Duchess leaving the ceremony, ready to head back to Government House.
Some will recognize Kate's private secretary Rebecca Deacon gathering additional flower bouquets.
Prime Minister Justin Trudeau his wife Sophie Grégoire Trudeau spent time with William and Kate after the official ceremony.
A quick video of the meeting.
WATCH: When William and Kate met Justin and Sophie – Cambridges + Trudeaus #RoyalVisitCanada #RoyalTourCanada pic.twitter.com/cRYrKPuEOs — Emily Nash (@emynash) September 25, 2016.
While this is not What Sophie Wore, there have been questions about her dress and shoes today. I do not know the designer of either but will happily share updated info should we discover either/both sources for the items. UPDATE: Sophie Grégoire Trudeau was also wearing Gianvito Rossi, the 100mm Plexi & Suede pumps, available at Luisa Via Roma in black/olive. Many thanks to Fashion Follower on Facebook for the tip.
Today's look was a hit for the Duchess. The Jenny Packham bespoke dress was in a blue that is very flattering on Kate. It is also one of the primary colors in British Columbia's flag. The dress is a classic sheath that hits just below the knee; it has a self-belt, slightly puffed sleeves that are fluted and bracelet-length, and a concealed zipper. The collar detail is a nice change, as is the vee at the back neckline.
This shows some of the dress details: the princess seaming at the bodice, darts at the hip, and a closer look at the collar.
The Duchess wore the Queen's platinum and diamond maple leaf brooch, also worn during the 2011 tour.
Kate opted for her tanzanite earrings. We show them below with the pair by G. Collins & Sons almost identical to hers; the difference being Kate's aren't suspended from the trio of diamonds.
Here you have a good look at Kate's updo, as well as her Sylvia Fletcher for Lock and Company hat. You can Kate's style today is embellished with maple leaves, a change from the floral motif on the red hat. That piece was first worn for the 2012 Diamond Jubilee River Pageant, and then re-worn in June of this year for Order of the Garter.
A better look at the maple leaves.
We saw the return of Kate's Gianvito Rossi suede pumps in the 'praline' colorway. The shoes remain available at Net-a-Porter ($675).
The Duchess carried her trusty Nina hard-sided clutch (£185, roughly $240 at today's exchange rates) in the 'trench' color from LK Bennett.
Kate and William leaving after this evening's ceremony.
Prince William and Kate meet the crowd and depart from B.C. legislature #royalvisitcanada https://t.co/MaFwqTpsuK

— Globalnews.ca (@globalnews) September 25, 2016
Prime Minister Justin Trudeau had a parenting thought or two for William and Kate.
Justin Trudeau offers Prince William and Kate some parenting advice for their visit #royalvisitcanada https://t.co/U6k9x6kUow — Global BC (@GlobalBC) September 25, 2016
We encountered some rather challenging technical issues tonight, my apologies for the post being so late. I hope to update it tomorrow with more photos. Many, many 'thank yous' to all who were so patient and helpful tonight.
For all of the details on what Charlotte and George were wearing visit our sister site, What Kate's Kids Wore.
We'll see you tomorrow.
LINKAGE: