Kate was in "dressy casual" pieces for today's engagements in Victoria, Canada.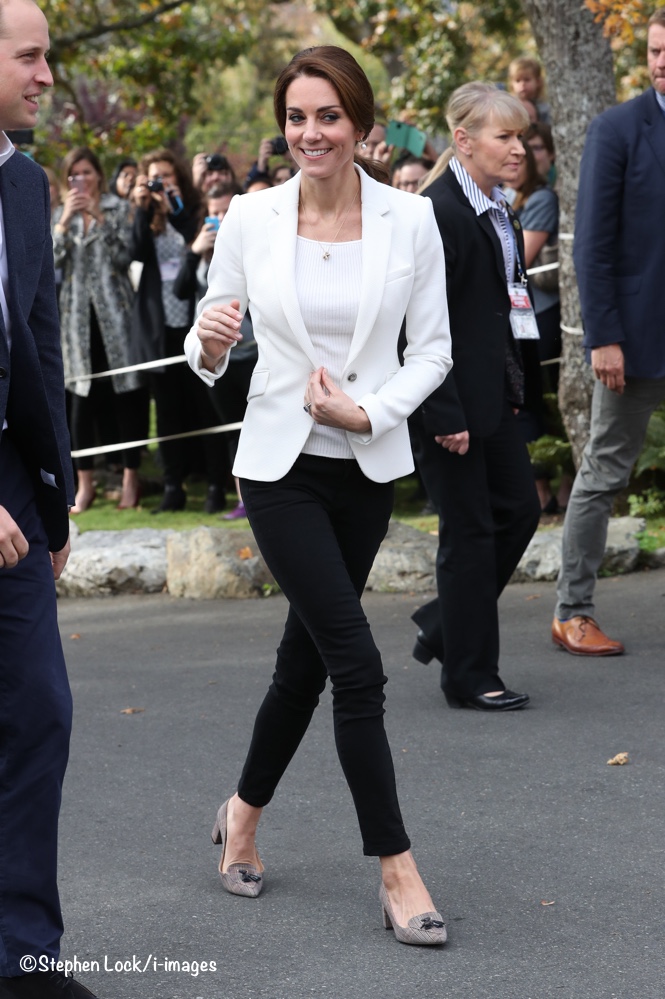 The Duke and Duchess started their day at the Cridge Centre for the Family.
The Centre is a charitable agency offering shelter, care and hope for children, women, families and the elderly.
More from The Daily Mirror:
The charity provides a range of services, including childcare and youth outreach.

It also works to support women who have experienced domestic violence.
The Centre is the longest operating charity in western Canada providing this range of services.
There were big crowds of people waiting to see Kate and William.
The Cambridges were presented with mini jerseys for the NHL Hockey team, the Canucks.
After leaving the Cridge Centre William and Kate journeyed to a local café where they met families who have benefited from the services offered by the Kelty Mental Health Resource Centre.
Kensington Palace noted that Kate and William were "keen to hear from parents what information and support is available for families dealing with mental health issues."
Later in the afternoon Kate and William toured Victoria Harbor aboard a Tall Ship piloted by a crew from the Sail and Life Training Society (SALTS), a charity using sailing to help build life skills.
She stopped to chat with crowds waiting to see the royals.
They toured Victoria's Inner Harbour before heading back to Government House to change for this afternoon's departure.
Now to what Kate wore. She was in a creamy white jacket by Zara, discovered by SueBStyle on Twitter and Clare on the WKW Facebook page.
The jacket has two slanted front flap pockets, a welt pocket at the chest, a single button closure, triple buttons at the cuff, and a center-back vent.
It is made of a textured poly/rayon blend with a touch of Elastane. This offers a good view of the nubby fabric. The jacket is a 2015 style that originally retailed for $129 / €69.
UPDATE OCT 4: It turns out the jacket has been offered more than one season. Kylie, also known as The Lady Wallace and an amazing repliKater, bought an almost identical jacket at Zara yesterday. Kylie says the cut, color and fabric are the same as Kate's, but she noted her jacket is not lined, as Kate's is.
There are some similarities/differences in the buttons, and even the thread used to stitch the buttonholes! We made a little montage shown just below. From left to right you see the buttons on the cuff in Zara's product photos, the original eBay auction buttons, Kylie's buttons, Kate's buttons and Kate's buttons.
Observations:
The buttons on the jacket Kate wore match the buttons on the jacket in the eBay auction, but they are different from the buttons on Kylie's new jacket.
The buttons came in two colors, a silvertone, and a goldtone.
Kylie's jacket and Kate's jacket both have the center buttonhole stitched in grey thread.
The Zara product photo and eBay photos do not have any grey thread, but both do have the top buttonhole stitched in black.
There is another difference. Kylie's jacket has lining/padding on the underside of the collar, and it looks like Kate's might as well, while the 2105 jacket does not.
Conclusion: This appears to be an item that Zara has manufactured for more than one season; my guess is that Kate's jacket goes back to 2015, but it's possible she has the new season piece being sold in Australia. Since her jacket has elements that match the 2015 jacket as well as Kylie's new version I'm not sure we'll ever know which it is unless she wears it again and somehow we can see if it's lined or not. The different thread colors are a mystery unless Zara uses the different thread colors to mark specific seasons.
If you're hoping to repliKate, I would do what Kylie did and buy the jacket at your local Zara, if/when they have it. Kylie's in Australia and she says sometimes they will get new season merchandise a little ahead of other countries. Bottom line, she says they look the same – the cut, color, and fabric – so it's possible the item has been reissued, although we won't know if that's the case in Europe or N. America for some time. BTW, Kylie reports her jacket was $139 AUD, at today's exchange rates that's roughly $105 USD. A big 'thank you' to Kylie for help with all this info, and sharing of her photos. And Kylie is always helpful when people have questions on her Instagram photos, here is a link to her Instagram page (I know the discussion of buttonhole thread colors is tedious, but accuracy is important and I would rather have too much information on the site than not enough, especially for those who are interested in locating and purchasing a product.)
We do know the top worn under her blazer is
the H&M piece
worn when
visiting the Isles of Scilly in September
.
Kate wore the Troy London parka first noted yesterday when out fishing in Haida Gwaii. This link takes you to the navy version of the parka (on sale), as we do not have a photo of the khaki color Kate has worn.
The Palace said Kate is wearing Zara trousers, but we've not yet identified them.
The Duchess opted for a new pair of shoes by J. Crew, another great block heel style. It is Crew's Avery, a point toe design in a cotton tweed fabric with shades of brown, red and blue. The stacked heel is 2″ in height and the shoe has a manmade sole. It retails for $278, and is still available in several sizes, but is (of course) selling at a speedy clip.
The Duchess changed into a pair of sneakers before sailing, opting for the Superga 2750 Cotu Classic in white canvas.
It is one of Superga's signature styles, with a canvas upper and natural rubber sole. Bloomingdale's has the shoe in most sizes ($65); Shopbop also has it in most sizes, ($65), along with Zappos, where it seems in plentiful supply ($65), and Nordstrom has it discounted by 25%, making the price $48.71.
Kate brought back the Asprey Woodland Charms necklace, a piece we haven't seen for several months.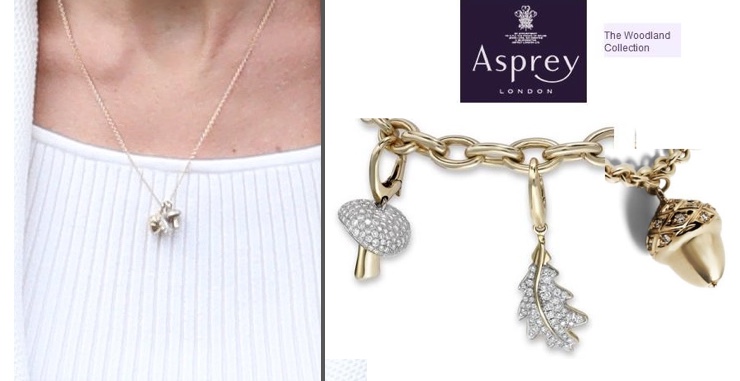 She also wore her Annoushka Pearl Drops and Kiki McDonough Diamond Hoops.
This is our preliminary pass at the post, it will be updated with new photos shortly. A quick reminder: Kate, William, Charlotte, and George are due at the Victoria Harbour seaplane terminal at 3:40pm PDT, which is 6:40pm EDT.