The Duchess donned a new dress from Erdem for tonight's Buckingham Palace reception kicking off the 2017 UK-India Year of Culture.
The event was hosted by HM and Prince Philip. The Queen wore a dress by Stewart Parvin in fabric with metallic thread.
The Year of Culture will celebrate the 70th anniversary of India's Independence through a year-long program of events and exhibitions. More about the project from the British Council:
2017 will see an incredible programme of cultural events and activities in India organised by the British Council, and a similar programme in the UK organised by the Government of India. We believe that by experiencing the most innovative and exciting creative work from both countries and exploring our joint history, people will want to know more about each other's countries and build deeper connections.
More from Richard Palmer's story in The Express:
Guests at tonight's reception included stars of stage and screen, fashion, food, literature and sport. Among them were Big Bang Theory star Kunal Nayyar and his model/actress wife Neha Kapur, British-Indian actress Ayesha Dharker, Indian cricket legend Kapil Dev, former England footballer Rio Ferdinand, sitar player Anoushka Shankar – daughter of the legendary Ravi Shankar – and her husband, director Joe Wright.
Kate chatting with a guest; Rebecca Deacon, her private secretary, is at her side.
Here you see the Duke and Duchess looking at one of the items on display, a shawl woven by Gandhi on his loom as a gift for (then) Princess Elizabeth.
More from Rebecca English's Daily Mail story:
Laid out in the palace Picture Gallery was a display of priceless artefacts from the Royal Collection including a shawl woven by Gandhi on his loom as a wedding present for Princess Elizabeth in 1947.

The shawl has the words Jai Hind – Hail India- in the centre and was accompanied by a hand-written note from Ghandi, addressed to Lord Mountbatten, then Viceroy of India, which said: 'The little thing is made out of doubled yarn of my own spinning…. please give the bride and the bridegroom this with my blessing with the wish that they would have a log and happy life of service of man…..Yours sincerely, MK '
It looked like a wonderful event to kick off the year's partnership.
Buckingham Palace was awash in Indian motifs, including a peacock, the country's national bird.
Kate was in a cocktail dress by one of her favorite designers, Erdem.
She was in the 'Rhona' Metallic Floral Lace Dress.
The piece is midi length with a round neck, pleated bodice, and skirt, semi-sheer raglan sleeves with a button cuff, self-belt, and hidden back zipper. The story of this frock is the fabric, a metallic lace in silver. In some photos, the fabric has a pink undertone.
Originally $2800, the frock was also worn by Norway's Crown Princess Mette-Marit in November of last year. A Tip of the Tiara to Betty Wales on the Facebook page for IDing the dress, and also to Penelope E., this is a dress she posted on the Facebook page several weeks ago as one she hoped Kate would wear.
Kate's shoes also sparkled; it looked like she wore the Platinum 'Cabrina' lamé heels by Oscar de la Renta. The style featured a pointed toe, 4″ heel, scalloped sides and raised back. The shoe remains available online ($690) in some sizes at Oscar de la Renta.
A closer view.
Kate's hair was partially pulled back.
The Palace says the earrings are by Anita Dongre, a designer worn during the India tour last spring. We are still looking for more information on the earrings.
UPDATED: The earrings are from the designer's Pinkcity line. More from The Times of India:
I must add, I was ecstatic to see how absolutely stunning she looked in the handcrafted Pinkcity earrings we custom-designed for her. She said she loved them!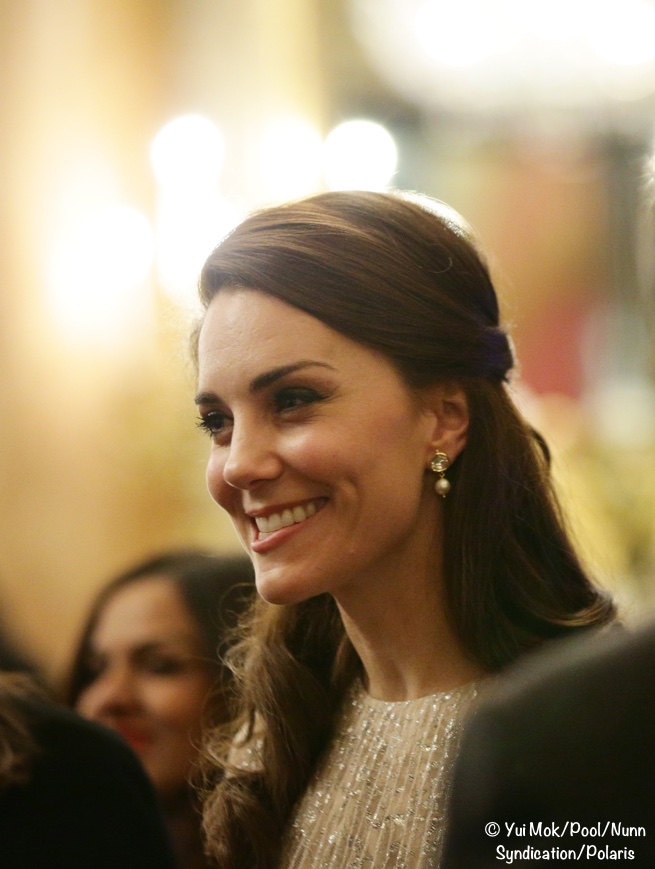 It turns out Ms. Dongre was at last night's reception. Thank you to Jane R from the WKW Facebook page who let me know about the designer's Instagram post mentioning the earrings.
Was so lovely meeting The Duchess of Cambridge this evening. We chatted about our mutual love for Rajasthan and she chose to wear a pair of @anitadongrepinkcity earrings crafted by @jet_gems
The jewelry line was launched in 2013, from the Jewellery Editor:
….combines traditional jewellery techniques with Anita Dongre's modern aesthetic. Inspired by the traditional legend of the princess who must wait for the arrival of a pink flamingo before finding her prince, the collection is a metaphor for love and commitment.
We'll leave you with this image of some yummy cupcakes shared by Ronald McDonald House Charities UK in advance of Kate's visit to the new Ronald McDonald House at Evelina London Children's Hospital tomorrow. We'll see you then.
LINKAGE: