Here is our advancer on the Tour of Poland and Germany beginning Monday, July 17.
First, a few details about both countries.
TIME: Both countries are 6 hours ahead of New York (EDT) and 1 hour ahead of London. When it is 1 pm in Poland it is 8 am on the East Coast. That is 3 hours ahead of Los Angeles.
POLAND: The countries colors are those of its flag, red and white. The national flower is the corn poppy, and its emblem is a white eagle.
GERMANY: The national colors are black, red and gold, as seen in the country's flag. The national flower is the cornflower, and the emblem is a black eagle.
The family will arrive in Warsaw midday Monday.
A fun note: A government spokesperson tweeted these photos of preparations for Prince George and Princess Charlotte at Belvedere Castle, where the family is staying in Poland.
And a look inside.
Here is the latest from Sky News:
The Duke and Duchess of Cambridge's latest European tour has been hailed as "historic" and a chance to "accelerate" the UK's relationships with two important EU countries involved in the Brexit process.
This portion of the Sky story quotes Sir Sebastian Wood, the British ambassador to Germany.
Speaking in the Adlon Hotel in Berlin, in the suite where the Queen stayed during her 2015 visit, Sir Sebastian said: "I think a trip like this is significant whatever the context.

"In a way this is historic, the first time that Prince William comes with his family on an official visit, and it's the beginning of what I hope will be a long standing relationship between them and Germany."

All visits are conducted on behalf of the Queen at the request of the Government and the Foreign Office.
You may see the entire article here.
WARDROBE: Many of you will already know the likeliest designers Kate could wear, those frequently seen on previous tours. A quick recap:
There are many, many other labels the Duchess could wear that I haven't included here; upscale brands like Beulah London, Erdem and Mulberry, along with high street retailers like Reiss, Hobbs, Goat, and many others.
Carly of Kate Middleton Style suggests we could see the Lasa Poppies dress because of the frock's print.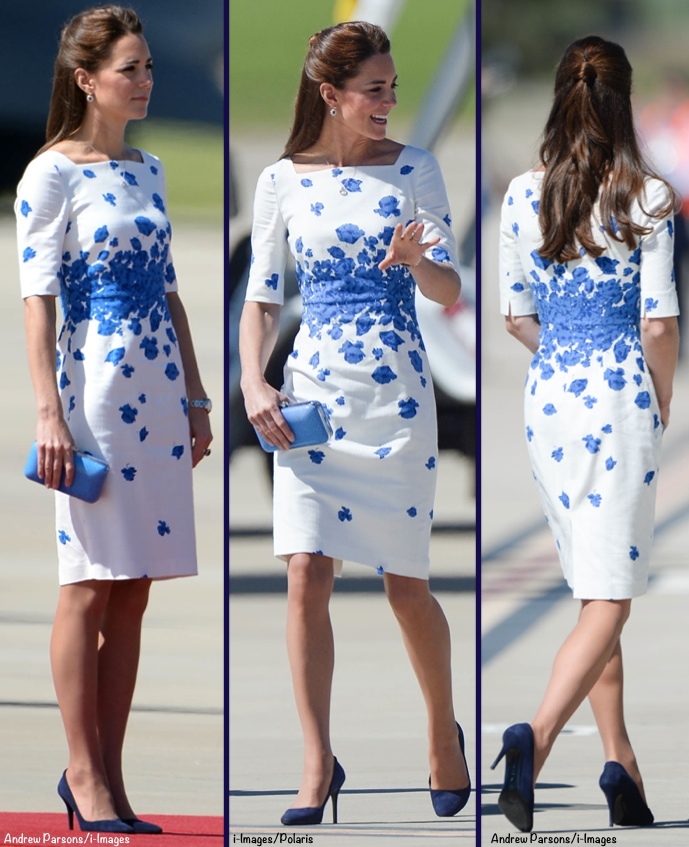 Regarding local designers, HRH Duchess Kate was tipped by a reader that an assistant for the Duchess purchased a coat by a Polish designer, Sylwia Romaniuk. A spokesperson for the company, Daria Malek, confirmed the information. The piece is called the 'Diana' coat, said to be inspired by the late Diana, Princess of Wales. Ms. Malek tells me the coat also comes in black.
The Telegraph has a piece looking at What will the Duchess of Cambridge wear for her tour of Poland and Germany next week? From that story:
Romaniuk is well-versed in designing for Polish high society so would be a no-brainer choice.
Historically when word gets out before a tour about purchases/expected wearings of an item we do not see it on the tour but we'll have to wait to learn if that is the case this time, or the Duchess decides to wear the coat.
The Telegraph story shared several brands that were new to me, I enjoyed learning about them. You may read the piece by clicking here.
Accessories to look for:
Town and Country has a piece tying into the Poland and Germany tour titled Here's What It Really Takes to Plan a Royal Tour.
Once the itinerary is agreed upon, members of the royal party's team travel out to the destination to figure out exactly how everything will work—from travel time to dress codes, camera angles, and the best place for the royal cavalcade to pull up.

A list will be compiled of all the people the royal party will meet, and matters of cultural requirements and etiquette discussed. Venue plans are drawn up to illustrate where everyone will stand, sit, enter and exit. All of the information is distilled down into a "tour bible" as thick and glossy as a magazine.
The Daily Mail reports on the support staff traveling with the Duke and Duchess.
Their official entourage will include 12 people, their adviser Sir David Manning, private secretaries Miguel Head and Rebecca Priestley, a four-strong communications team, an equerry, tour secretary, two logistics officers and a personal assistant.

The Cambridges' Spanish-born nanny Maria Teresa Turrion Borrallo, who trained at the prestigious Norland College, and a hairdresser, will also join them but will be paid for privately.
++++++++++++++++++++++++++++++++++++++++++++++++++
Now to the schedule. This is also on our Kate's Calendar page, but to make accessing information as easy as possible, we'll also publish it here. As soon as we can publish specific times, we will do so. Monday I would look for the first event to take place between 7:30-9am EDT.
Monday, July 17:
Tuesday, July 18:
Wednesday, July 19:
Thursday, July 20:
Friday, July 21:
NOTES:
Every evening we will publish one of these. In Canada we were able to include times; hopefully, that will be the case for this tour as well. Here is tomorrow's schedule, sans specific event time.