The Duke and Duchess visited the Leicester City Football Club today.
Neil P. Mockford/Getty-Images
They were there to honor those killed in an October helicopter crash. Aboard the chopper, Leceister City owner Vichai Srivaddhanaprabha and four other people. Below you see Vichai Srivaddhanaprabha's son Aiyawatt, Vichai's daughter Aroonroong and his widow, Aimon.
Reports say the helicopter cleared the stands but then crashed moments later just outside the club's home field at King Power Stadium.
Below, Aiyawatt greeting Kate and William at the Stadium today.
Neil P. Mockford/Getty-Images
In this image you see Vichai and Aiyawatt holding the Premier League Trophy after winning it in May 2016. At the start of the season, the odds were 5000 to 1 against the team winning their division.
More from The Guardian:
The tragedy has led to wide outpourings of grief in Leicester, and in particular tributes to the owner. Vichai bought the club in 2010 and transformed it with his financial backing, with the fairytale success of a first Premier League title in 2016.
November 10th there was a "Walk for Vichai" before that evening's match.
Also from The Guardian:
"The scale of the reaction to the dreadful crash is something that you might have anticipated for a star player or a one-club manager," says Sir Peter Soulsby, who is Leicester's mayor and a season-ticket holder at the club.
"It's probably not something you would get for many other football club owners, if any. It's very clear that people recognise that when King Power and Vichai bought into the club they were not just simply looking to take from the club and from the city and run it from a distance. They actually committed themselves to the city as well.
Prince William is President of the Football Association. Following the accident, he released a statement in which he described the entrepreneur as "a businessman of strong values who was dedicated to his family and who supported a number of important charitable causes. He made such a big contribution to football, not least through Leicester City's magical 2016 season that captured the imagination of the world. He will be missed by all fans of the sport and everyone lucky enough to have known him."
Four others perished in the crash. This is from a Telegraph story:
The pilot who was killed in the helicopter crash outside Leicester City's stadium was "living the dream" as he travelled the world with his soulmate, a friend has said.

Eric Swaffer died alongside his partner Izabela Roza Lechowicz in the crash which also claimed the lives of Leicester City Football Club owner Vichai Srivaddhanaprabha and two of his staff members, Nursara Suknamai and Kaveporn Punpare.

The couple were both professional pilots and were living together in Camberley, Surrey, having recently bought a house together, according to a long-time friend.
It turns out William not only knew Mr. Swaffer, but he had also flown with him. More from this BBC story:
The former air ambulance helicopter pilot revealed during his visit he had flown with pilot Eric Swaffer, who died in the crash, only a few months before describing the experience as a "privilege".
Top shared some of his sentiments on Instagram a week after the accident.
"I'm extremely proud to have such an extraordinary father. From him, I have received a very big mission and legacy to pass on and I intend to do just that. I know that I will receive the support I need to make this happen and I am so grateful for all your messages and kind words.
Victoria Murphy posted a video of the couple as they laid flowers.
Prince William and Kate arrive at @LCFC to pay their respects to those who lost their lives in last month's helicopter accident pic.twitter.com/3KGFVHOncz

— Victoria Murphy (@QueenVicMirror) November 28, 2018
The flowers were wrapped in a blue ribbon, the club's main color. Chris Ship of ITV shared a photo of the card accompanying the bouquet. The message read, "To Vichai and all those who lost their lives in this terrible tragedy. You will be sorely missed. Our sincere condolences to the city of Leicester. William. Catherine."
The Duke and Duchess pause and reflect.
Aiyawatt Srivaddhanaprabha and his sister Roonroong.
William and Kate met volunteers who helped move the flowers and other tributes left at the stadium to another part of the campus.
They also spoke with players and coaches.
There were gifts for Prince George, Princess Charlotte and Prince Louis, miniature Leicester kits.
They also spent time privately with family members and club officials.
A hug for Aroonroong.
The duo had a look at Leicester's home field.
We all know team owners who are engaged in the communities where their teams are located, and we know of those who are not. Clearly, Vichai was the former; this is really a tremendous loss for the community. Today Prince William delivered a brief speech. Emily Nash of Hello! shared part of the speech.
William says: "We knew Vichai as a man who cared deeply about his family and also his community. He of course was a man of wealth, but that wealth did not leave him disconnected from those around him. He believed in giving back." pic.twitter.com/Ihc8FoFfR6

— Emily Nash (@emynash) November 28, 2018
The late businessman was committed to charitable giving, donating £2,000,000 to Leicester Hospitals Charity to "…kick-start the fundraising campaign to develop a new Children's Hospital for the people of Leicester, Leicestershire, Rutland and the wider East Midlands" per this NHS news release.
He also gave the University of Leicester £1 million to be used funding medical research and training. More from Leicester Live's coverage:
The university said its staff and students were in shock after the tragic helicopter crash at the King Power Stadium on Saturday evening.

Professor Philip Baker, head of the College of Life Sciences and Dean of Medicine, said: "…. his impact on the city and our community has been equally impressive. The new LCFC Professorship in Child Health – the only such post to be supported by a football club – and the philanthropic funding for the new children's hospital are just two examples of his investment in Leicester."
In 2016 the University awarded Vichai Srivaddhanaprabha an honorary doctorate. After leaving the stadium Kate and William went to the University to hear about some of the educational programmes supported by the club.
They met people at the University who had been waiting for a chance to see the royals.
When asked if she was excited about the arrival of Prince Harry and Meghan's baby, Kate replied: "Yeah, absolutely," before excitedly continuing: "It's such a special time to have little kiddies. And now a cousin for George, Charlotte and Louis as well! It's really, really special." She then talked about her three children and how much they're looking forward to Christmas, adding: "They're doing well, thank you. They're getting excited for Christmas time, because they've started all their Christmas songs and the Christmas trees are going up. And Louis's getting bigger, I can't believe he's like seven months, he's getting to be a big boy."
The pair also spent time speaking with students.
There was a cute moment as they were leaving and Kate met twins Sai and Taran Gokani, age 6. They were born prematurely, and the family received assistance through the donation made by Vichai to the University.
Sai decided he wanted to give the Duchess a kiss.
The Duchess didn't seem to mind.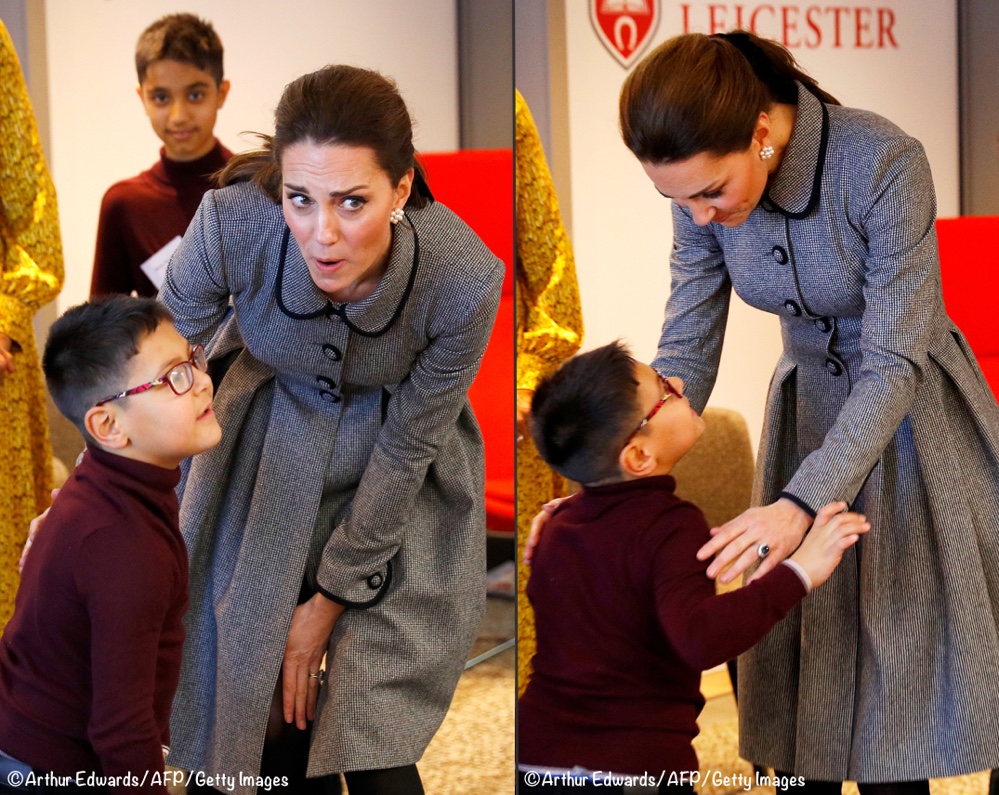 The couple watched a science experiment.
The Duke and Duchess of Cambridge watch a science experiment at @uniofleicester. pic.twitter.com/jQpL3i6It4

— Kensington Palace (@KensingtonRoyal) November 28, 2018
Simon Perry's People story covers the twins; apparently, Sai was a little rambunctious.
As Kate was introduced to the twins, who spent months in the hospital after they were born prematurely, she asked them, "What do you boys like doing? Do you like playing football?"

The answer gave her a taste of what was to come. "I like headbutting," said Sai, who with his brother, promptly proceeded to give the royal a demonstration.
Kate joined the Queen and Prince Philip as they kicked off the Jubilee Tour in Leicester.
Now to what Kate wore for today's engagements, a design by
Catherine Walker
.
Many of us recognized the coatdress immediately, as we had a partial look at it back in August when Kate and William attended church with HM.
The dress features princess seams, a rounded collar, and long sleeves. The collar, cuffs, and buttons are trimmed in what looks like black velvet, and there is a decorative button at the cuff. When we did the post in August, there was a suggestion the trim might be navy, but it looks like black in today's photos. You can see the similarities in the upper portion of the garment and Catherine Walker's Ella jacket.
The lower portion of the piece is much like the Catherine Walker Collette coat.
Another look at the piece alongside Catherine Walker's Astrid coatdress. The upper portion of the Astrid is similar to the top of Kate's, although the Duchess went for full-length sleeves.
There were a few comments asking if this was a coat, a dress, or a coatdress. It very much looks like a coatdress to me; I thought that was what I'd written but obviously had not; with thanks to those who commented, the correction has been made. The piece is fitted so closely I don't see room for another garment beneath it; it is in a fabric that looks heavy enough to hearken a vision of a coat.
Kate carried another bag by Aspinal of London. It is the retailer's Midi Mayfair bag ($725) in the deep shine black croc colorway.
The bag measures about 8″ x 6″ x 3″ and it is made of Italian leather. It has that distinctive croc pattern and is lined in grosgrain. The bag offers another example of the Duchess's penchant for finding something she likes and purchasing it in multiple colors. Below, the Midi Mayfair in deep shine lilac croc (but with a much steeper price tag of $870), carried at an October engagement.
The Duchess wore her Tod's suede pumps.
We saw the Cassandra Goad Cavolfiore earrings (£4360) again.
The Duchess wore the velvet hair bow we first noticed last week when she visited UCL. The piece appears to be from J Crew, the brand's Velvet Hair Tie ($22.50). If shopping at J Crew, be sure to use promo code SNUGGLE for 30% off your purchase; if spending more than $200, the discount deepens to 40%. The hair tie has an expected shipping date of December 10.
UPDATE NOV 29: The J Crew hair tie is now sold out. MK left a comment suggesting the Velvet Bow Hair Tie set ($19.50) from Ann Taylor.
There are two bows, one all black and one with blue edges. With the amount of promotional pricing going on I imagine these will be on sale fairly soon.
Emily Nash posted a cute video of what goes on just before the royals arrive at an engagement.
If you've ever wondered what happens in those final moments before royal visitors arrive, it's usually something a bit like this… pic.twitter.com/jQDRNxE7qo

— Emily Nash (@emynash) November 28, 2018
This 4:30 raw video from ITN's Royal Family Channel covers events the outdoor events at the stadium.

This video shows the Leicester tribute to Vichai Srivaddhanaprabha as it was played at the stadium.

LINKAGE: