The Duke and Duchess visited Bradford in West Yorkshire today.
Located in northern England, Bradford is one of the UK's most diverse cities. The Duke and Duchess were there to learn about projects and initiatives supporting the community. They arrived at just about noon.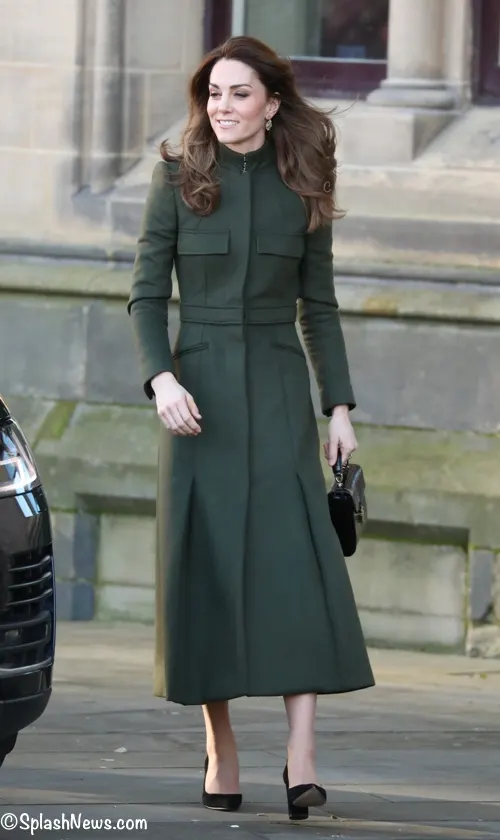 Kate with a wave for those gathered to see the couple.
The Duke and Duchess being officially greeted at City Hall.
Then it was time to head inside.
Richard Palmer of The Express tweeted a video of the couple as they were welcomed.
Inside Bradford's City Hall pic.twitter.com/Q3pKrQhXZV

— Richard Palmer (@RoyalReporter) January 15, 2020
They spent time with young people from the area who have been recognized for their volunteer and community service efforts.
More from Rebecca English in her Daily Mail story.
They chatted at length with Caitlund Roberts, 19, who talked to them about STEM subjects and being a woman in engineering.

'STEM is something we have been going around asking about a lot,' said William, 'getting girls into engineering. ' He asked: 'How did you find the journey getting into it. Easy? Difficult? What more can be done?'

Caitlund told them eloquently about the 'stigma' she sometimes felt the profession came with for women.
There was quite a crowd waiting to see the royals outside, including students from local primary schools. While the Duke and Duchess were busy inside, a police officer kept some of the children entertained with a vigorous rendition of "Heads, Shoulders, Knees, and Toes." Here's a video shared by the BBC's Judith Moritz.
This police officer at the royal visit is rocking 'heads shoulders knees and toes' as school children wait to see the Duke and Duchess of Cambridge pic.twitter.com/haFCzqmYKx

— Judith Moritz (@JudithMoritz) January 15, 2020
Kate was given flowers as the royals left City Hall.
This was followed by a walkabout.
The Duchess complimented these children on their school uniforms. (I rarely do this, but really, could those little ones be any cuter?)
The Duchess with two of the students.
I loved the expression on the boy's face in this photo.
Richard Palmer also shared a video of the walkabout.
Royal walkabout pic.twitter.com/H0u5chwOXc

— Richard Palmer (@RoyalReporter) January 15, 2020
The Duchess met a young man named Josh and told him she liked his camouflage jacket and that Prince George is very fond of camouflage. She then gave him a big hug.
More from The Mirror's coverage:
Josh, 25, who is autistic and has DiGeorge syndrome, caused by the deletion of a small segment of chromosome, held out his arms to the Duchess, who bent down and gave him a hug.

She then said: "Thank you for the hug".

Josh had travelled with his mother, Sue, 46, from Blackpool to Bradford, combining a trip to a pantomime with the chance to see the Duke and Duchess.
Josh's mother tweeted a photo of the Duchess with Josh.
#RoyalVisitBradford pic.twitter.com/JSPYMThtyo

— sue (@rosie7394) January 15, 2020
The Daily Mail reports Josh has had his photo taken with many celebrities, including Robbie Williams and Harry Styles, and he was also photographed with Sophie, Countess of Wessex.
As the couple was leaving, Kate was presented with a bouquet of white roses.
William was given a single rose by the children that he then presented to Kate.
The next engagement was at a MyLahore restaurant. The Bradford Argus & Telegraph posted a video of Kate and William arriving.
The Duke and Duchess of Cambridge arriving at @mylahore #RoyalVisitBradford https://t.co/I3OlJt7ms9 pic.twitter.com/sxyC5BseI9

— Telegraph & Argus (@Bradford_TandA) January 15, 2020
MyLahore features British-Asian food inspired by the cuisine of Lahore, Pakistan, considered by many to the food capital of Pakistan. The company's founders grew up in Yorkshire, and they now employ more than 450 people at MyLahore restaurants in Bradford, Leeds, Manchester, and Birmingham.
Kate and William were at the eatery to learn about the restaurant's charitable work in the Bradford community. The couple met Bradford College students who are part of a kitchen apprenticeship collaboration between the restaurant and college.
William and Kate made Mango Lassis, a blend of yogurt, fruit, and spices.
TV's Lizzie Robinson tweeted a video of the couple mixing kulfi milkshakes.
The Duke and Duchess of Cambridge tried their hand at making milkshakes during their visit to @mylahore. They also met students from @BradfordCollege who are on an apprenticeship scheme at the restaurant. pic.twitter.com/jFX92WJSze

— Lizzie Robinson (@LizzieITV) January 15, 2020
This photo isn't a bad candidate for a caption contest.
While at the restaurant, they met Amir Khan, Britain's youngest Olympic boxing medalist. The Telegraph reports that Mr. Khan "…said he spoke to William about his boxing foundation and mental health in sport."
The Duke and Duchess also met women from UK Women's Muslim Council and those who have benefitted from the Council's 'Curry Circle.' Sponsored by MyLahore, the Curry Circle is an initiative that provides a hot two-course meal for people who are homeless or struggling to feed themselves. Below, the couple learning about the project.
The Duchess hearing more about the Curry Circle initiative.
Then it was time for the next stop, one of two Khidmat Centres in Bradford, purpose-built to serve vulnerable members of minority communities. Below, the Duke and Duchess as they are greeted at the Centre.
Another view.
Kate meeting people outside the center.
People's Simon Perry tweeted a video of the duo outside the center.
Princess Kate chats to people on the way into Khidmat centre in Bradford #royal #katemiddleton pic.twitter.com/c504NlZVea

— Simon Perry (@SPerryPeoplemag) January 15, 2020
They were wowed by the incredible cakes made in honor of the royal visit.
More from the Leeds Live coverage:
As they walked in, the royals were shown a huge cake which tells the story of both of their lives to date through edible pictures.

When she saw the cake, baked by Bradford baker Siama Ali, Kate said it was "really clever", adding: "That's incredible."

William joked: "Mary Berry would be impressed."
Some of the individual cakes.
Emily Andrews tweeted a video with Siama Ali, who made the cake.
This amazing lady Siama Ali from Bradford spent three days baking these amazing cup cakes & main ? to depict Kate & William's childhood, meet, engagement, wedding & children. Lovely explainer from her & she is Cup Caker Bradford if you want to check her out! pic.twitter.com/NE6HRHl50m

— Emily Andrews (@byEmilyAndrews) January 15, 2020
Kate was given handmade gifts for Prince George, Princess Charlotte and Prince Louis.
The items were knitted and crocheted. You can see the personalized "Prince Louis" on the red, white, and blue hat.
The Duchess speaking with women who made the gifts.
Mor from The Glasgow Times.
The duchess was introduced to a group of women crocheting at the centre, who showed her hearts and blankets they had made for her children – six-year-old George, Princess Charlotte and Prince Louis.

"I tried knitting when I first had George," the duchess told them.

"I tried to knit him a very special jumper, but I got half way down and it splattered."

The duchess, who in 2013 disclosed she had taken up knitting ahead of the birth of her eldest child, George, added: "It's such an amazing skill."
They took part in a session with groups supported by Better Start Bradford, an organization providing 20 different projects that support pregnant women and families with children under the age of 4. The Duke and Duchess met families from the organization's 'Older Yet Wiser' project, described as "a unique and innovative workshop series for grandparents who have child-caring responsibilities for their grandchildren." They participated in a sing-along with the Little Dots workshop, an initiative that uses music to help with child development. Below, the Duchess with 18-month-old Sorayah Ahmad.
More from Hello's story:
Sorayah's grandmother Maryiam Ahmad, who has completed the 'Older Yet Wiser' course, tells HELLO!: "I almost started crying, it was very, very emotional. Kate was joining in with the nursery rhymes and dancing with Sorayah."
The final event of the day was a workshop with Near Neighbours, a group that "brings together people in diverse communities, to create relationships of trust and to help people transform their neighbourhoods."
Another view.
A group photo.
Now for our look at what Kate wore for the day's engagements in Bradford.
She was in a bespoke coat by Alexander McQueen. The structured piece features a high collar, fitted bodice with multiple darts and flap pockets, exposed seams with topstitching detail, waistband, concealed placket, diagonal besom pockets at the hip, and princess seams on the back of the bodice. Below, a closer look at details: on the left, buttons on the cuffs; in the center, the closure at the neck; on the right, a portion of the front placket.
It has similarities to the McQueen coat worn for St. Patrick's Day 2019, as well as the 2018 Remembrance Sunday McQueen, but the darts on today's garment extend all the way from the neckline to the pockets. The exterior seams appear to have more emphasis (for lack of a better word), and the waistband may be wider.
Beneath the coat, Kate wore a dress by Zara, the brand's Printed Dress with Belt (originally $129, most recently $39.90), now sold out online.
The midi-length dress is 100% polyester in an oversized houndstooth print.
The dress buttons up the front, has a pleated skirt, v-neck with attached bow, elastic on the inside of the waistband, button cuffs, and wide self-belt.
We saw the return of the Duchess's go-to Piper 85 Suede pumps by Gianvito Rossi. The shoe is a classic point-toe style with a 3.5″ block heel.
We show the shoe at My Theresa ($695), where it is in stock in most sizes. It is also available in a mix of sizes at Net-a-Porter ($695); the retailer shows it as 'coming soon' in other sizes.
The Duchess carried her Midi Mayfair bag ($725) in the 'deep shine black croc' colorway by Aspinal of London. Made of Italian leather, it measures about 8″ x 6″ x 3″.
Kate also owns the bag in the 'deep shine lilac' colorway.
The Duchess brought back the Ceramic Drop Earrings ($8) by Pakistani retailer Zeen. The earrings were first seen when worn to a pre-tour reception at the Aga Khan Centre in London, worn again in Pakistan.
We'll leave you with one more photo of the Duchess.
VIDEOS:
Kensington Palace tweeted a very quick recap of the day.
Thank you Bradford! #RoyalVisitBradford pic.twitter.com/w5BhjW7FrU

— Kensington Palace (@KensingtonRoyal) January 15, 2020
Here is a 3-minute video from the City Hall arrival and walkabout.

Here is a 2-minute walkabout video via Global News.

This Royal Family Channel piece offers about 4:15 of raw footage from the MyLahore restaurant visit.

Our final Royal Family Channel video is roughly 3 minutes of footage from the Khidmat Centre.
LINKAGE: