Kate was simply stunning at this evening's "Night of Heroes: The Sun Military Awards" in London.
The Awards were at the Imperial War Museum, they honor the nation's military, as well as civilians involved with the armed forces. Awards are given in a variety of categories, including the True Grit Award, Lifesaver Award, and Best Recruit. Below we show Sergeant Duncan Slater, winner of the Overcoming Adversity Award.
You can read the Sergeant's remarkable story in The Sun. Here we see Kate with Award winners.
A better view of the Duchess and the dress.
The Duchess selected a spectacular black velvet frock by Alexander McQueen, a modified version of the brand's label's "Strapless Velvet Gown" at Net-a-Porter; it originally sold at £3,995 (approximately $6200), but is now completely sold out.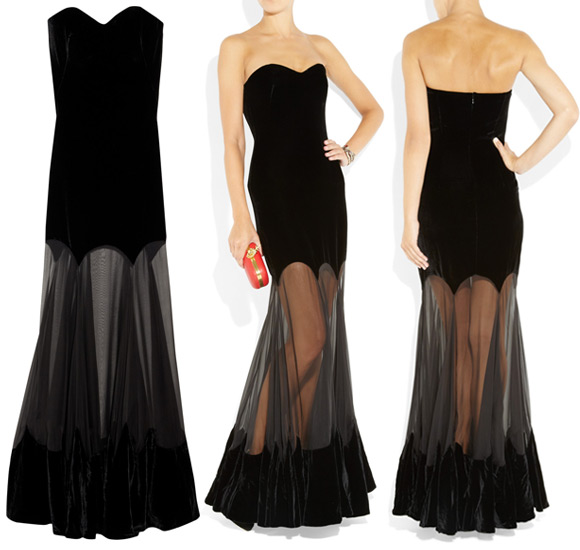 Much as some hoped to see Kate in this exact gown, the transparent black chiffon from mid-thigh to shin wouldn't have been at all appropriate, nor in sync with her style. Kate's velvet dress has a sweetheart neckline delicately trimmed with pleated black tulle or chiffon, a flared trumpet-style skirt, and a figure-hugging fit. I expect it is the same silk/rayon blend used in the off-the-rack gown shown above.
Those familiar with evening gowns worn by both Princess Diana and Kate early in their official roles couldn't help but be taken by the linkage between Kate's gown and one worn by Princess Diana.
Diana's dress was worn on her first formal black-tie appearance following the announcement of her engagement to Prince Charles; there are a number of notable elements about the two dresses:
both are black, a color rarely worn by members of the Royal Family with the exception of very somber affairs, such as Remembrance Day or periods of mourning
both are made by the same designers who created their wedding gowns, Diana's by Elizabeth and David Emanuel, Kate's by Alexander McQueen
both are strapless with sweetheart necklines topped by a ruffle, although Diana's ruffle was wider and embellished with sequins
Of course, Diana's gown was more-than controversial; not only was it black, the decolletage was scandalous, especially for a young Lady about to marry Prince Charles; obviously that was not a concern with the McQueen couture dress this evening. Kate has shown herself to be an astute follower of previous royal fashions, the similarity of elements between the two garments require one view tonight's dress as an homage to Princess Diana.
UPDATED: Kate wore another pair of towering heels, the Daily Mail reports they are Prada satin pumps, the same shoe WKW FB friend Cherry pointed out last night. We show them in suede at Neiman Marcus, the pumps have a 5″ covered heel, they are $720.
Others think Kate wore the Jimmy Choo 'Cosmic' in black suede, with heels of 120mm, or 4.8″, although they sit upon a sizable platform that looks to be at least 1″. This shoe is still available on the Jimmy Choo US website, priced at $695. A tip of the hat to WKW FB friend Ashley who pointed the shoes out.
To be honest, I have no idea which shoe it is, although these are both very good candidates. UPDATE: I believe the Duchess wore the Jimmy Choo shoes.
UPDATED: Kate's bag is by Pretty Ballerinas, by Jaime Mascaro.
We show the bag at Large Size Designer Shoes, it measures roughly 11″ x 7″, has a double magnetic clasp closure, and is lined in signature Jaime Mascaro fabric. The clutch originally retailed at roughly $245 but was last on sale at about $145 USD. It was the perfect accent with her ensemble, enhancing the look without detracting from the exquisite jewels, the sensational dress, or the Duchess herself. The credit for the identification of Kate's bag goes to Vera, who was kind enough to let us know!
The evening was already glamorous, but Kate boosted the glitter factor, shimmering in a new suite of jewelry, diamonds, and rubies at her neck and wrist.
Here is a closer look at the jewelry.
UPDATE: The set is by Mouawad, a Lebanese company. It is believed to be a wedding gift.
We have seen the earrings previously, below we show Kate wearing them this evening (left) and at the Canada Day concert this summer during the Royal Tour (right).
Our many thanks to those who left comments here and on Facebook correcting my statements that the earrings were also new, special appreciation to Anna of My Small Obsessions. The Royal Order of Sartorial Splendor shows Sophie wearing just such a piece both ways in this post.
One of the most striking aspects of the evening is that it seems clear Kate plans to bring black back to the House of Windsor, at least on some level; a topic we'll explore more in the future. In my estimation this is one of Kate's best looks: the black velvet was seasonably appropriate and the style more sophisticated. Kate's hair is always lovely, worn up it would have looked a tad more elegant, more in keeping with a black-tie function. But really, the Duchess looked so lovely we've no interest in nit-picking on any level.
I think all in attendance, particularly the young royals, would agree the night belongs to the military. The Telegraph shares how eloquent Prince Harry was tonight:
"I am a young Army officer, a serving soldier. Like my brother, I share many of the same hopes, the same aspirations to go on operations, and the same fears as all those who serve our Queen and country.

By an accident of birth, though, it falls to 564673 Captain Wales humbly to express " on behalf of my comrades-in-arms and people up and down the country " the admiration we feel for the extraordinary men and women we honour here tonight."
For more complete coverage, the Sun's story is here, its "Millies Roll of Honour" is here.
Earlier today William, Harry and Kate were among those in attendance at the Queen's pre-Christmas luncheon. For more on that, click here. We will see you on Wednesday, when the Duke and Duchess visit Centrepoint.