Kate opted for a Jenny Packham gown for this evening's glamorous, glittering premiere of the new James Bond film, SPECTRE.
The Duchess was joined by the Duke of Cambridge and Prince Harry.
The film is 2015′s Royal Film Performance, a benefit for the Cinema and Television Benevolent Fund. The Fund helps film and television professionals, providing "support for those facing personal and career challenges of illness, injury, unemployment or finances."
SPECTRE is the 24th James Bond film, as well as the third time a Bond film has been chosen for the Royal Film Performance. A brief description of the plot from Sony Pictures:
…a cryptic message from Bond's past sends him on a trail to uncover a sinister organization. While M battles political forces to keep the secret service alive, Bond peels back the layers of deceit to reveal the terrible truth behind SPECTRE.
Actress Léa Seydoux plays one of the Bond love interests. Mr. Craig with both leading ladies, on the right Monica Bellucci is in a velvet Ralph and Russo dress.
It seems everyone was having a good time this evening, more details from Richard Palmer's story in The Express;
Upstairs in the Royal Albert Hall, there was the bizarre sight of Prince Harry acting like a fanboy and asking Daniel Craig for his autograph. It was hard to tell who was more excited – the actors or the royals.

…astonishingly, Harry, appeared totally star struck at meeting the film's leading man.

During an animated chat he patted Craig down as if discussing his suit or physique and then asked to borrow a reporter's pen to get the actor to sign his programme. Asked whether it might be for charity, a royal aide laughed and said: "No I think it is for him."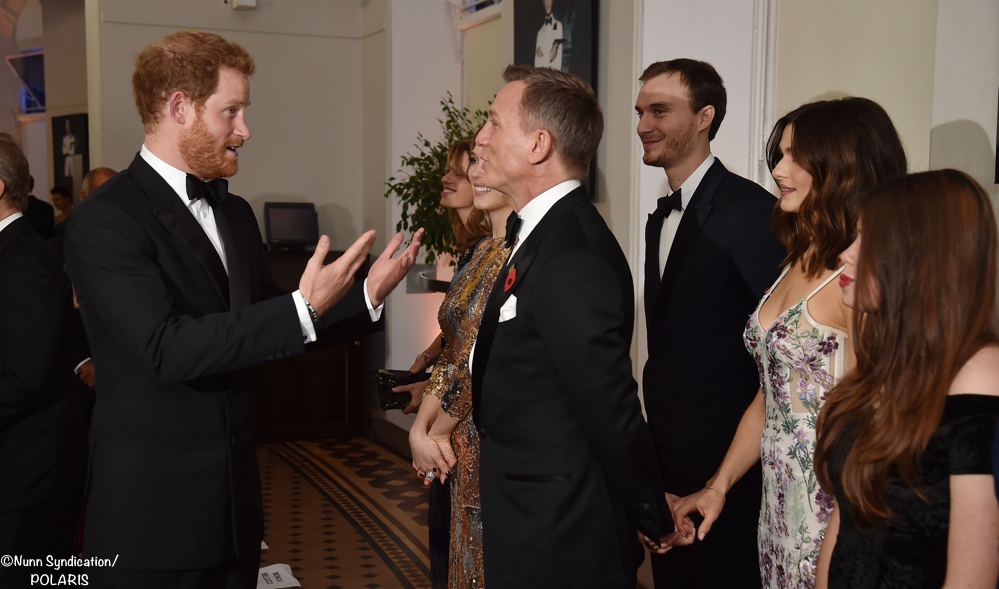 This isn't the first Royal Film Performance for William and Kate, they attended the 2013 Royal Film Performance featuring Mandela: Long Walk to Freedom. Kate wore a Roland Mouret gown for that premiere.
For this evening's engagement, the Duchess went with another Jenny Packham evening gown.
Kate's gown is based on a dress we actually showed in a September 2012 post during the Jubilee Tour. (A big thank you to Kate's Closet for pointing this out, once again yours truly completely forgot about posting the frock back in 2012.)
The dress has a halter-style top but with spaghetti straps at the shoulder, as opposed to the garment's fabric going up to the neck and being tied in back. Kate's gown also showcased a crossover top in the front and a full, multi-layer skirt.
Perhaps the most distinctive design element is the bodice topped by a sheer overlay that is slit open on the back. The garment closes at the back neck and with a zipper in the skirt portion of the piece.
Here you see the shimmering rhinestone belt and the extended row of rhinestone or crystal button/snaps at the wrist.
Kate accessorized with a clutch that was also by Jenny Packham, the miniature 'Casa' bag:
A miniature version of the best selling Casa, this solid frame box clutch features angular enamel and a crystal encrusted clasp. Completed with a silk cotton lining.
The miniature version measures 15cm/6″ in length, which would be consistent with the way it fits into Kate's hand, it is £325. The larger size is 20cm, almost 8″ and it is £455. The clutch is a popular piece with the celebrity set, Taylor Swift carried the clutch to the Winter Whites gala at Kensington Palace in December of 2013. (The party where Prince William got up and sang with Ms. Swift and Jon Bon Jovi, more here.)
The Duchess wore Robinson Pelham earrings, the jeweler's Pagoda style set with blue topaz and diamonds in white gold (£14,300, about $22,000). Anna of My Small Obsessions pointed out that Carole Middleton actually wore these earrings back in 2011, for Kate and William's evening wedding reception.
And she wore her 'Vamp' platform sandals from Jimmy Choo.
We saw an updo from Kate this evening.
This offers a better look at Kate's hair from the front.
This was the second film premiere of the day for Harry, Kate, and William: this morning they saw the new Shaun the Sheep film, although that is a 30-minute production as opposed to a full-length feature film like SPECTRE.
Kate has worn quite a few dresses in this 'icy blue' shade. Below, you see Kate in Jenny Packham at the National Portrait Gallery for an April 2013 event, wearing Emilia Wickstead at a Photography Awards function in October of last year, and at tonight's premiere, and then in tonight's Jenny Packham frock.
Many thanks to those commenting and messaging with suggestions for the 4th item I was trying to remember. worn for a Mosque visit while in Malaysia during the Jubilee Tour.
Today's dress isn't quite as rich a color, but it struck me as being very similar; I would swear there was a fourth dress in this shade for an evening engagement, but I cannot remember what the function might have been Kate would have been attending. I will keep hunting and will add it to the post if I can remember. With thanks to those commenting, messaging, and emailing with ideas about the fourth piece I was trying to remember, we have another montage of Kate in the icy blue hue. When worn in the evening the color really pops as seen, as seen with the Amanda Wakeley gown worn for a 2011 reception, the Christopher Kane coat at a Buckingham Palace function and that lacy McQueen gown only seen in a vehicle heading into the Queen's 2013 diplomatic reception. The Beulah London dress worn for a 2012 visit to a mosque in Malaysia is also done in this same blue, but in daylight, it doesn't shine the way the color does in the evening.
We will see you shortly for Kate's engagement with Chance UK's mentoring program, along with her attendance at the 100 Women in Hedge funds dinner at the V & A.
LINKAGE: