The Duchess wowed in a new gown by Roland Mouret for tonight's Sports Aid gala at Kensington Palace.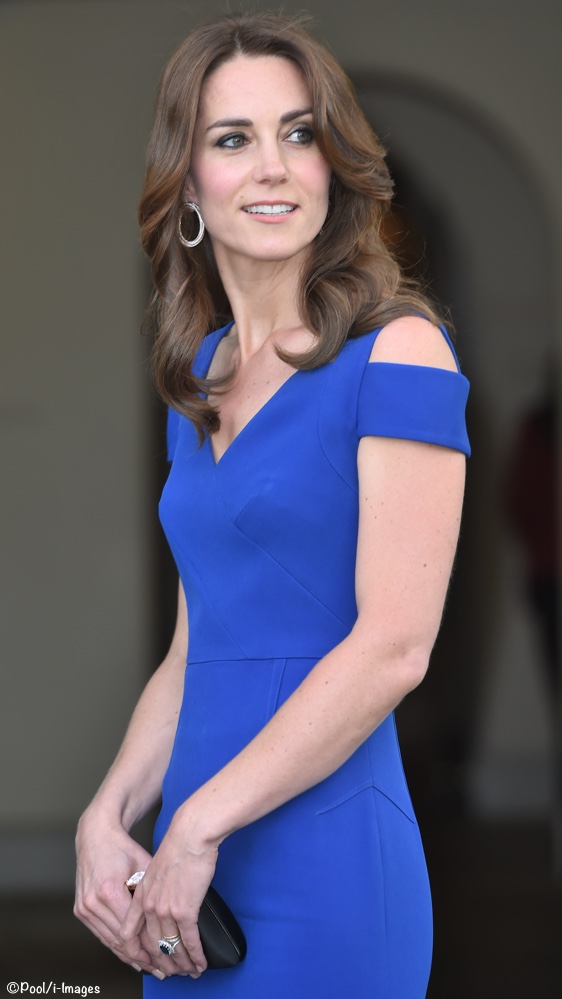 It looked like a gorgeous evening to be outdoors at Kensington Palace.
This year's Sports Ball commemorated the charity's 40th anniversary.
Kate has been patron of the organization since 2013. More from The Evening Standard:
The Duchess of Cambridge told of how she cannot wait to cheer on Olympic athletes in Rio as she hosted a special banquet at Kensington Palace to mark SportsAid's 40th year.

In the beautiful setting of Kensington Palace's gardens Kate chatted to former Olympians and Paralympians supported by SportsAid and those hoping for medal glory with the organisation's support.
Kate and Sharron Davies, a silver medalist at the 1980 Moscow Olympic Games.
At tonight's event, the Duchess spoke briefly.
From a written version of her remarks:
Some of you may know that I love sport. I love cheering on teams and athletes that I am passionate about. I love the physical challenge sport presents and the mental strength it gives us all. And I love the way it so often brings people together to work as part of a team.

The brilliance of SportsAid is in really understanding just how much athletic competition gives to our country as a whole.
VIDEO: Watch the Duchess of Cambridge give a speech saying how much she loves sport at the SportsAid dinner #kate pic.twitter.com/LWXD2cgwnt

— Emily Andrews (@byEmilyAndrews) June 9, 2016
Below you see Kate with current and former SportsAid athletes in the Sunken Gardens at Kensington Palace.
Statistics show the charity's dramatic impact; Richard Palmer has more in his story for The Express:
Almost two-thirds of the British team at London 2012 were former or current recipients of SportsAid's support, winning 20 Olympic and 27 Paralympic gold medals between them.
Emily Andrews of The Sun shared these pictures on Twitter; on the right, you can see the exposed zipper on the back of Kate's dress.
For this evening's dress, Kate returned to a designer she's not worn for quite some time, Roland Mouret.
Kate wore the 'Nansen' gown from the Resort 2016 collection.
The design showcases a look that's all the rage: 'cold shoulders,' so-called because of the cut-out design. The piece has a mermaid silhouette and is made from a viscose/acetate blend with a touch of elastane for stretch and comfort. Other design elements include:
an angled neckline with multiple darts and tucks
a fitted silhouette with nipped-in waistline
an exposed back zipper
On the Roland Mouret website, this color is called 'royal blue.' Here is an overview of retailers offering the dress:
The frock comes in other colors. The black version is 40% off at Net-a-Porter, $2226.
It is offered in pale blush at Harrods, where it is $3143; it is also carried in pale blush at FWRD, but that price is much lower, $2597. Neiman Marcus stocks the frock in midnight navy; that price is $2990.
Kate has worn one two other Roland Mouret designs that we're aware of; the first was the Manon dress seen when departing Heathrow for the North American tour in 2011.
The other is the Ella, originally called the Lombard. We show the Duchess in that garment in December 2013 at the premiere of "Mandela: Long Walk to Freedom" (below left); it was first seen at a private dinner in May of 2012 (below right).
Roland Mouret still offers the Ella in ivory/off-white ($4605), as does Net-a-Porter ($4610). HRH Duchess Kate also discovered the dress in a rich red color called claret at Net-a-Porter ($3985).
This evening Kate accessorized with footwear from Gianvito Rossi, the pair of black sandals we first saw on the tour of India and Bhutan. The shoes are suede, with 'pin-thin stiletto' heels that measure 4.3″. They are $777 and available in only very small or large sizes at Matches Fashion.
Kate carried the black satin Prada clutch that also debuted during the spring tour.
Tonight's wow factor didn't just come from Kate's dress; the Duchess wore a new pair of earrings.
The style appears to match a pair of circa 2010 Cartier hoops currently for sale at Beladora, a vintage and estate jewelry boutique in Beverly Hills.
The earrings are rose, yellow, and white 18K gold covered in diamonds. They measure 1-2/8″ in diameter, and they're offered at $36,250. (The original price is shown $56,000.) Today's Tip of the Tiara goes to Athena, she discovered the Beladora listing and posted a photo and link on Twitter.
There is also a pair at 1st Dibs with the same measurements, although the info from that vendor dates them to the 1990s.
Tiffany C. shared the 1st Dibs link, as well as a photo of actress Cameron Diaz wearing the earrings.
The earrings appear to be part of a Cartier set Kate owns, as they match the Cartier Trinity necklace first worn for a 2012 National Portrait Gallery exhibit featuring Olympic and Paralympic portraits.
The original retail price for the necklace was £49,000, about $71,000 at today's exchange rates; that puts the cost of the two pieces somewhere around $127,000. (My guess is that the jewelry was a gift, I wonder if perhaps we'll see Kate wearing the matching ring someday.) Knowing how Kate enjoys injecting thematic elements into an ensemble, it would make sense she would wear something that loosely echoes an Olympic/Paralympic rings theme.
This is a look that was met with almost unanimous plaudits from Kate fashion followers and fans. The color is very flattering for Kate; the jewelry and accessories worked well with the gown.
++++++++++++++++++++++++++++++++++++++++++++++++++++++
Some very quick Sales & Savings Opportunities to pass along.
The LK Bennett US/CAN sale is underway with discounts up to 50% in store and online.
Savings for the UK/Int' l. sale are up to 40% in store and online
The Stuart Weitzman progressive sale has started. I refer to it that way because the prices get progressively lower the more you buy. The first item is discounted 30%, the second is 40% off, and the third is 50% off. Many will recognize the shape of this Weitzman bag, known as the 'Muse' at Russell and Bromley. In the US, it is called the 'Raz,' and it is available in Red Patent ($349), Lake Sunflower Patent ($396), and Adobe Patent ($498). (Kate's Corkswoon is shown as being out of stock and her Minx wedge is already 50% off, $213.)
We'll see you tomorrow for the National Service of Thanksgiving.
LINKAGE: