We are back with follow-ups on our Paris posts, as well as a few critiques of Kate's wardrobe from fashion journalists.
We start with Elizabeth Paton's NY Times piece about Kate's Paris wardrobe.
..with numerous staged photo opportunities in the creative and commercial capital of the fashion world, the duchess used the city as a catwalk to subtly raise the bar in the art of diplomatic power dressing.

The duchess has long had her favorite British designers to wear on the global stage. But given the profile of the trip, it was hard not to think that championing some of the British female talent leading the industry charge in Paris, like Stella McCartney, Phoebe Philo at Céline, or Clare Waight Keller, installed at the helm of Givenchy just last week, might have reflected a defter touch in sartorial tradecraft.
Ms. Paton's thoughts on Kate's look for Saturday's early engagements.
…it was no real surprise that the duchess chose Chanel — the house widely seen as the grande dame of Parisian fashion — as she posed for photographs with her husband on Saturday with the Eiffel Tower in the background and with well-wishers waving Union Jack flags nearby.
More on the Chanel choice from Edward Barsamian's Vogue column:
And yet instead of her traditionally English off-duty Duchess style, she appeared on the scene in a chic Parisian look.

That said, the multicolor tweed fit-and-flare dress wasn't too far removed from what we've seen from Middleton in the past. The silhouette is similar to the day dresses she favors, including yesterday's custom Catherine Walker number, even if the fabric has a more textured hand. The Duchess has recently taken a liking to prints, stepping out in pretty patterns by Alexander McQueen and Vanessa Seward, and today's Chanel look sees her exploring that idea in a new way.
The Telegraph's Bethan Holt on the black McQueen:
The look was dazzling in a manner which the Duchess rarely toys with, imbuing an air of sophistication without being an obvious statement showstopper.

The Duchess's pearl jewellery- a gobstopper ring, bauble necklace and Balenciaga earrings- was also a nod to classic Gallic style and added interest to an otherwise pared-back look- a key consideration when impact is required for those pictures which will be beamed around the world.
From a column about Friday night's black-tie dinner, Ms. Holt's thoughts on the Jenny Packham.
Kate opted for a tried-and-tested equation courtesy of Jenny Packham, one of her go-to designers. The silver, delicately embellished design bears all the hallmarks of Packham's signature dazzling eveningwear.

Although the gown paid less obvious homage to her hosts than the McQueen LBD and pearls which she had worn just an hour or so earlier, the refined column silhouette was one of the sleekest Packham dresses Kate has been seen in.
UPDATES:
FRIDAY HANDBAG: It turns out that Kate's handbag carried at the Irish Guards shamrock ceremony and for the official welcome in Paris is by Etui; credit for the ID goes to a lovely WKWer who would like to remain anonymous. Below left, the Duchess holding her bag; in the center, a photo shared by our anonymous WKW friend, and another shot of Kate's bag on the right. The company has verified Kate is carrying their bag. While they do not currently have an e-commerce site, arrangements can be made to purchase a bag by contacting the company via its Facebook page.
Here is a look at the style in a different color. Etui says Kate's color was from the fall/winter line, but they are working on getting more bags in that shade.
We have some splendid first-hand info via a comment from Kay:
I was in John Lewis Oxford street London, and Topshop Oxford street yesterday and they still had these Etui clutches in stock in a variety of colours including this green, and 2 different sizes. I also bumped in to someone who I believe is the etui owner, or British importer, and he said they weren't producing any more of that print for a while, but he didn't rule it out. Also, they have 2 sizes of this clutch, and contrary to what etui PR says (large clutch), I believe it is the small clutch Kate is carrying, having looked at both myself. They are lovely bags though, really good quality for the price. I bought a range of colours in that print.
The company is based in Poland. Some believe this may have been purchased for the upcoming trip to Poland, while others posit it is a coincidence. Alex A. contacted Etui and shared this on the WKW FB page: "they were super helpful and answered right away and are helping me get a bag. I recommend sending an IM if you want one." Etui is on Instagram, and they also started on Twitter this past Sunday.
FRIDAY SHOES: Kate wore a new pair of suede pumps by Emmy London, the label's 'Rebecca' style in a new color called 'Greenery.' Made of kid suede, the shoe showcases a pointed toe and 4.5″ heel.
SATURDAY BOOTIES: There have been some terrific ideas shared about the ankle boots worn for the rugby on Saturday. You can just see them in this Instagram photo from Patrick Kanner, Minister of the City, Youth, and Sport.
ID suggestions include the Prada shown in a light tan, as well as the Stuart Weitzman for Scoop NYC in black, shown on the far right. (Thank you to Jenny K!) There have been a few comments wondering if perhaps the style worn Saturday is different from the pair worn in New York. Without a hi-res photo from Saturday it's impossible to say for sure it is the same pair. One FYI, it was thought the pair worn in New York is the same style worn to a December 2009 Christmas concert, that is not the case. Click here for a photo showing that pair in 2009, you will see a leather tab or other appendage at the ankle missing from the New York style.
JEWELRY: Saturday we saw Kate in new (to us) jewelry, designs from Cartier's Trinity collection, including Trinity de Cartier Earrings ($2040).
And what we think is the Cartier Trinity necklace ($1890).
We couch that statement because several eagle-eyed WKW Facebook friends, including Ayvee E. and Trisha S., wondered if perhaps Kate might have been wearing the Cartier ring worn by Diana, Princess of Wales. You can just see it in this picture from February 1983. NOTE: See update below explaining why we now believe Kate wore the actual necklace.
There are several pictures from this particular photo session; they were taken at Kensington Palace in February of 1983.
I don't know if there is any way to determine if Kate is wearing the piece as shown at Cartier, or if she is wearing Diana's ring. In the majority of photos I happened to license the three rings do not lie flat, something Sarah also noted on the FB page. (I don't believe that necessarily sheds any light on the matter, but wanted to note the necklace looked that way in many photos.)
UPDATE: Thank you to Elizabeth in Colorado, she did some detective work on the ring showing the bands were all yellow gold. (It was nice to learn of the DianaPOW.com site.) Additionally, a WKW FB friend who would prefer remaining anonymous has found a hi-res picture of Diana's ring, and the size looks different from Kate's necklace. It's wonderful to have such great input that allows us to solve a few fashion mysteries!
Upon seeing Kate's pearl necklace at Friday's reception in Paris, several savvy Kate fashion followers asked if the pearls in that necklace were part of a set that included in the brooch worn with the Alexander McQueen suit at Trooping the Colour in 2014.
The setting for the pearls/faux pearls is similar to that seen with the brooch. Unfortunately, it's another case where I can't shed additional light on the topic; I'm just not knowledgeable enough. As always, we're eager to hear from those with more information and insight on this.
GLOVES: Cornelia James confirms Kate brought back her Imogen gloves ($87)for Saturday's rugby match.
CATHERINE WALKER COAT-DRESS: Some readers and FB/Twitter friends wondered if Kate has on a separate skirt or dress beneath the Catherine Walker coat-dress worn for the Irish Guards appearance and Paris welcome. I don't believe that is the case; I have looked at this photo in hi-resolution and you can see there isn't another garment beneath the Walker piece.
UPDATE: With thanks to those sending DM/emails and commenting here on the post, I am wrong about this. Kate *did* wear another garment beneath the Catherine Walker. It may not show in this photo, but other pictures do show a dark dress or skirt. (I'm off to hunt for one of those images.) I did manage to find another photo showing just a bit of the dress/skirt beneath the coat. It does not show as much as several others I have seen, but it is the best one I could find to license. Melissa, Elizabeth and others, a big 'thank you' for sharing better info/pics!
ANNE LLEWELLYN: I received quite a few inquiries about the dress worn by Lady Anne Llewellyn, wife of Ambassador Ed Llewellyn, the couple hosted Friday night's dinner.
I still do not have any idea who the dress designer is (and would love to know!), but can share a bit of insight on the shoes worn with that dress. They are by Dior, a version of the Black Technical Fabric with J'Adior ribbon. Thanks to Maureen for her comment with that information.
Some quick inventory updates:
RepliKates:
A note about comments: some slipped through over the weekend that should *not* have been approved. My apologies for letting that happen. Other than that hiccup the trip was loads of fun to cover. I want to say an *enormous* thank you to everyone who left such kind comments; that meant the world. Really, you've no idea how wonderful that is to see when feeling overwhelmed, with flagging energy and spirits. Thank you.
Now it's time for a speedy poll: which look did you most like?
We'll leave you with this photo from Friday's welcome at the Élysée Palace, one we didn't have time to share when writing that post. This one would be fun for a caption contest.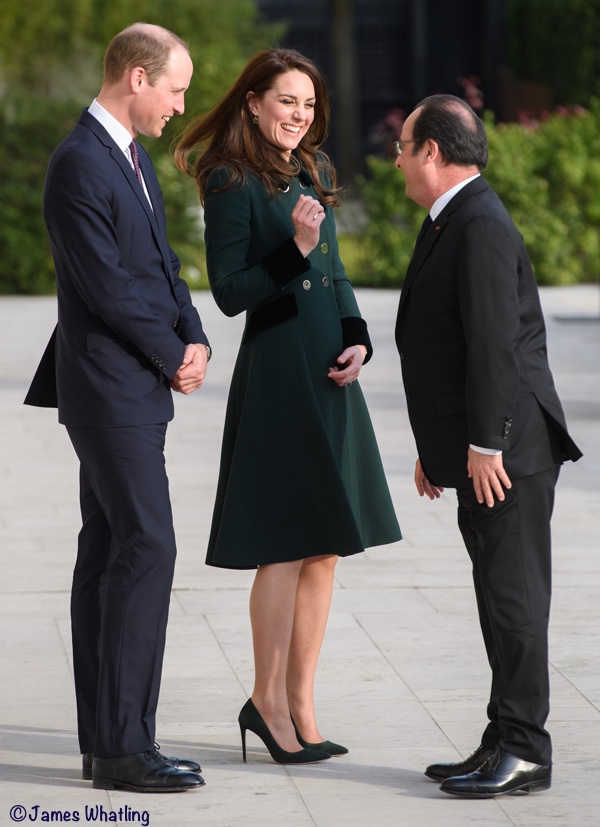 Here are links to the Paris posts:
Paris Welcome: https://whatkatewore.com/2017/03/18/kate-keeps-her-catherine-walker-coat-on-for-paris-arrival/
Cocktail Reception: https://whatkatewore.com/2017/03/17/its-alexander-mcqueen-in-paris-for-embassy-reception/
Black Tie Dinner https://whatkatewore.com/2017/03/17/its-jenny-packham-for-paris-black-tie-dinner/
Morning Engagements: https://whatkatewore.com/2017/03/18/its-a-chanel-trifecta-with-a-touch-of-cartier-for-paris-day-2/
Rugby Match: https://whatkatewore.com/2017/03/18/red-and-black-to-support-welsh-rugby-team/