Kate opted for a nautical look at today's engagement with the 1851 Trust.
The Trust is the charitable arm of Land Rover BAR, Sir Ben Ainslie's America's Cup team.
The trust works to enable and encourage young people from a wide demographic to experience sailing, gain insight to the range of fantastic career choices and opportunities in STEM subjects and act sustainably.
A video from The Daily Mail's Rebecca English shows the Duchess arriving and being greeted by Sir Keith Mills, a trustee of the 1851 Trust.
Video: the Duchess of Cambridge on her engagement as Patron of the @1851Trust pic.twitter.com/JK6IjEKCYD

— Rebecca English (@RE_DailyMail) June 16, 2017
Today's event was the charity's final Land Rover BAR Roadshow. Held throughout the UK, the Roadshows focused students on STEM-based projects, sustainability efforts and sailing. More about the Roadshow program via the Trust:
Featuring real life examples of the technology and careers involved in Land Rover BAR's challenge for the America's Cup, the day is comprised of activities carefully designed to enrich the school curriculum, aiming to inspire a new generation of sailors, designers and engineers.
The events were at the Docklands Sailing and Watersports Centre in East London. From Simon Perry's People story:
Kate took part in an educational treasure hunt and an ocean plastics sea-bird activity, which highlights the damage caused by single use plastics and promotes sustainability.
Students from four East London schools took part in today's events.
From Richard Palmer's Express story:
Beverley Smith, education manager of the 1851 Trust, told Kate and the pupils how when birds eat plastic they feel full but can then starve because it has no nutritional value.

She said: "The birds starve to death. We haven't just made this up – this is very real."
As part of the treasure hunt, students had to answer questions about science, technology, Land Rover BAR, and the America's Cup.
Sir Ben Ainslie was unable to take part in today's in person; he is still in Bermuda, site of this year's America's Cup. Unfortunately, the Team was unsuccessful in its efforts to win the Cup; they were eliminated from the race last week. From The Telegraph:
Kate said: "Commiserations, obviously, but really well done. We've been watching with really keen interest. Both William and I have been glued to the telly. Well done to you guys. I gather now you're on to the next thing."
Students get ready to head out on the water.
Kate was given a flower posy by Samiyah Khanom.
More from a Docklands and East London Advertiser story:
"It was nerve-wracking but it was fine," the Canon Barnett Primary School pupil said afterwards. The Year Six pupil added that she only found out about her special role that morning and that her friends "had their fingers crossed" for her.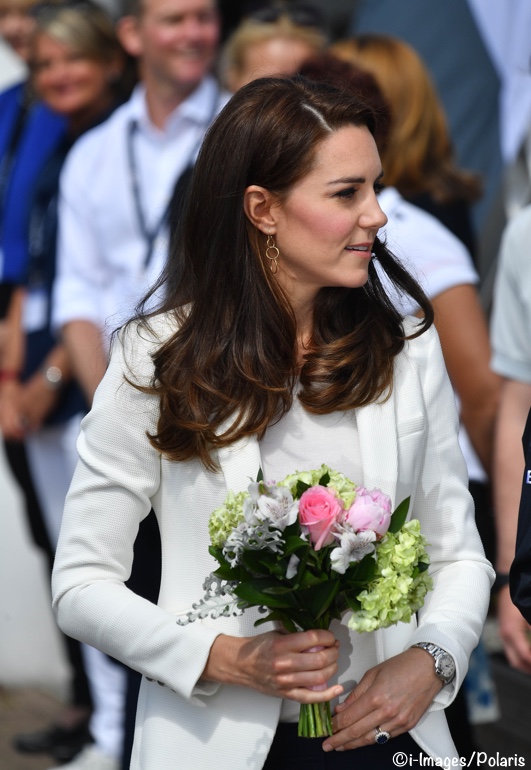 Now to Kate's nautically inspired ensemble, beginning with her trousers from J. Crew. The Duchess surprised many be eschewing her skinny jeans for Crew's Sailor Pant.
Thoughts on today's ensemble from Bethan Holt's Telegraph story:
The abbreviated length exposes the slim ankle bone so makes them more flattering than classic floor-sweeping flares, but the proportions can still be on the tricky side, especially with styles like those chosen by Kate with a sharp central crease. As ever, it's all about getting the cut right- high-waisted, thigh-skimming rather than clinging and not too short, not too long are your key pointers.
Arguably, Kate was likely first drawn to her new J.Crew trousers because they work brilliantly into her penchant for literal dressing i.e dressing as closely as possible to suit the occasion. Given today's visit was all about sailing, her navy and white colour palette and those shiny gold buttons are the epitome of smart-casual sailor styling
Made of a two-way stretch wool, the trousers are fitted through the hip and thigh with a full leg and tabs at the waistband. They also feature top-stitched side seams, slanted front pockets, back pockets, and goldtone logo buttons. The style originally sold for $138, but is no longer available. Our thanks to Kate's Closet for the ID on this item.
From a Vogue piece by Alice Newbold.
Today's reworked outfit shows she's still a high street fan. The trouser swap, however, could mark a shift towards a more trend-conscious approach to trousers. As we reported back in 2016, stretch denim and skinny jeans are out in favour of original fits. With cropped kick flares also having enjoyed a moment in the style spotlight, the Duchess's new trousers prove she's on the right track.
It was terrific seeing the Duchess opt for something different for today's engagement, although the trousers seemed a bit snug at the hip, the front pocket outlines were visible in some photos. While Kate's style is sold out, J Crew does offer similar designs. Alex A. on the WKW Facebook page pointed out this linen style ($45 with promo code YAYCLOTHES), a bit shorter than Kate's and not quite as formal in design.
A side note about J. Crew: the retailer's struggles continue (more here and here) and the company is having to take bigger markdowns than usual. All sale merchandise is an additional 40% off with promo code YAYCLOTHES; the discount is 50% for final sale merchandise.
Many readers immediately recognized Kate's white Zara blazer, first worn when visiting the Cridge Centre in Canada last October.
Kate's J. Crew shoes were also first seen in Canada; the brand's Avery Tweed heels.
The Duchess wore a classic sailing rope bracelet, the 1851 Trust Band of Britain. The bracelet is made of recycled ocean plastics. It is available for £15, and proceeds go to the Trust. Unfortunately, the bracelet is available for shipping only to addresses in the UK. Our thanks to Katie on Twitter for the bracelet ID.
We saw Kate's Mirabelle Lolita earrings (£35) again.
And the Ballon Bleu de Cartier watch.
We don't have an ID on the white top worn today. Layered beneath Kate's blazer and lacking distinguishing characteristics, I'm not confident we will be able to identify the piece.
A video from Rebecca English of everyone gathered for a group photo.
Video: a photocall for Kate at the end of the @1851Trust engagement pic.twitter.com/Dz8obKgtoO

— Rebecca English (@RE_DailyMail) June 16, 2017
A few quick notes:
we'll see you bright and early tomorrow for Trooping the Colour, the ceremony starts at 11am, that is 6am EDT
don't forget to enter to win an autographed copy of Romancing the Throne by Nadine Jolie Courtney, click here to get in on the giveaway (comments close tonight at midnight EDT)
Bonnie has been wonderful in sharing info about an exclusive one-on-one interview with Prince Harry that airs tonight on CTV in Canada; Prince Harry: Journey to Invictus, airing at 9 pm EDT. I don't know about the options for watching it outside of Canada. Bonnie recommends this story for more on the show; CTV's story is also worth a look. The Invictus Games are being held in Toronto this year, starting September 23.
LINKAGE: