We are back with the final two maternity polls we wanted to put together, the first covering Kate's casual styles when she was expecting Prince Louis.
We begin with a mid-October Coach Core event where we saw the Duchess in a Philosophy blazer, skinny jeans and a new pair of Fallon Dry boots from Russell and Bromley. For a Lawn Tennis Association engagement Kate wore the 'Clarice' jacket by PlayBrave Sports, her Monreal Tuxedo Track Pants, and a new pair of sneakers, the Nike Air VaporMax Flyknit style.  In mid-November Kate had two engagements in Birmingham; at the second stop she changed into her red Perfect Moment 'mini duvet' jacket and New Balance/Sweaty Betty trainers.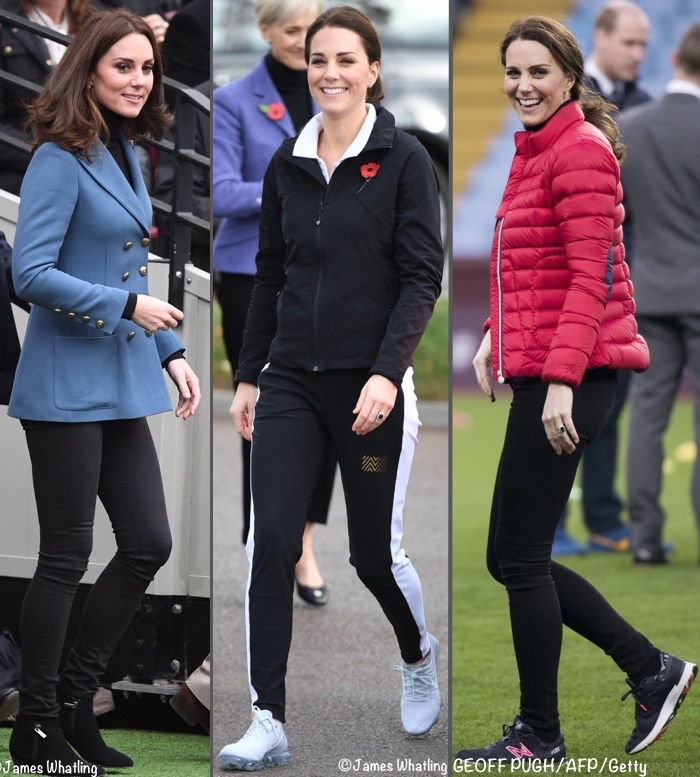 At a late November school engagement celebrating the Royal Horticultural Society's School Gardening program we saw the return of Kate's Barbour jacket and Penelope Chilvers boots.  January brought a Wimbledon Junior Tennis event where the Monreal track pants made another appearance, along with the PlayBrave 'Clarice' jacket, this time in white.  When visiting Sweden in January Kate played a little bandy hockey wearing Burberry's Toddingwall trench coat and a new pair of Sorel boots. The Duchess and Duke wrapped up their visit to Norway with a trip to Holmenkollen National Ski Area, where Kate wore a down jacket by Kjus and Dale of Norway sweater.
Now for the formal looks worn by the Duchess while she was expecting Prince Louis.  Kate returned to Diane von Furstenberg for a November gala in support of the Anna Freud Centre, bringing back her Zarita lace dress, with its fitted bodice and sweeping, fluted hem. The Duchess dazzled at the Royal Variety Performance in November, wearing a heavily embellished Jenny Packham gown with sheer sleeves and shoulders. At a dinner at the British Ambassador's residence in Sweden Kate wore an Erdem dress that became the talk of the tour for some fashion followers. Called the 'Stephanie,' the silk-satin dress was done in a distinctive print called Winterbourne, with a high neck, ruffled elements and a tiered skirt. For a formal dinner in Norway Kate chose a blush pink gown by Alexander McQueen with a sheer cape-style overlay and rhinestone embellishment in a floral motif at the neck.  In February we saw another Jenny Packham gown for the BAFTA Awards, this one in dark green chiffon with a black sash.
Two events not included in the formal styles voting: the 70th anniversary party for HM and the Duke of Edinburgh.
And the annual Diplomatic reception.
We really couldn't see enough of what Kate wore at either occasion to include those styles in the poll.
+++++++++++++++++++++++++++++++++++++++
A social calendar note: Royal Windsor officially gets underway tomorrow.

HM was there today, looking just delighted to be out in the sun and fresh air.
Queen Elizabeth II during the @windsorhorse at Windsor Castle, Berkshire. pic.twitter.com/WS8CVUT2kN

— Steve Parsons (@parsnippo) May 9, 2018
While it's not something we regularly write about in this space, it is a terrific event.
++++++++++++++++++++++++++++++++++++++
One other item of interest, this one about William and Kate's London home, Kensington Palace. Both Business Insider and The Daily Mail have put together interesting stories in the past week about Kensington Palace and its residents. This graphic comes from the Business Insider story, with a breakdown showing the apartments and their occupants.
The Daily Mail story also offers an explainer graphic, but you really need to see it on the Mail's site, the type is too small to read in this graphic.
Both the Insider story and the Daily Mail article are nice reads, but what I really wanted to share is this link to a detailed (and fascinating) post about Kensington Palace at Cote de Texas, an outstanding blog I used to read years ago. My friend Joyce shared the link yesterday and I clicked on it, immediately falling down the interwebs rabbit hole, not to emerge for at least fifteen minutes, I became that engaged with the images and info in the post. It's something I think many of you would enjoy.
A quick shopping note; the Preen X LK Bennett collaboration. All of the pieces in that group that are shown on the US website are on sale. Here is a sampling: on the left, the Syd Blue Floral Dress is on sale for $297 (it was originally $495); the Black Vali Print Dress is discounted to $417 from $695; and shown on the far right, the Reed Silk Floral Print Dress, now $477 (it was priced at $795).
LK Bennett is also offering 20% off almost everything through Sunday night with promo code SPRINGFEVER. While the promotional email says "20% off everything," that is not the case: the discount excludes the retailer's Signature collection (which includes Kate's Fern and Floret pumps) and the Jenny Packham collection.
For those interested in the upcoming wedding, we have lots of info at What Meghan Wore, including an excellent list of ways to watch and stream the wedding on the 19th, as well as a look at the special programming leading up to the big day.