The Princess of Wales wore Elie Saab for today's royal wedding in Amman, Jordan.
The Prince and Princess attended the wedding of Jordan's Crown Prince Hussein and Saudi Arabian architect Rajwa Al Saif.
Crown Prince Hussein is the eldest son of King Abdullah II and Queen Rania.
The British royals arrived at the St. Regis Hotel in Amman last night.
The Prince and #PrincessofWales will be joining the Foreign Royals for the first time for an overseas Royal event.

Video courtesy ET Arabiahttps://t.co/6zpa59HZAw pic.twitter.com/wtorCM4k7f

— RegalFille (@RegalFille) June 1, 2023
The Wales family has many ties to Jordan. Many readers will remember this photo of Michael, Kate, and Pippa Middleton taken at the Petra archaeological site.
More via a Tatler story.
Kate even spent some of her childhood there as her father, Michael Middleton, was a British Airways flight dispatcher at the time. The Middletons moved to the country when the princess was two, with the family having once released a sweet photo of Kate and her younger sister, Pippa, with their father there.

The prince made his first trip to the country in 2018, as part of an official royal visit to Jordan, Israel and the Occupied Palestinian Territories. In a speech at the time, William stated: 'My wife Catherine is very sorry she cannot be here with me so soon after the birth of our son Louis, but her family remembers very fondly the almost three years she spent here as a child when her father worked for British Airways in Amman.
Prince William and Crown Prince Hussein during that 2018 visit, which included a stop at the site where the Middleton family photograph was taken.
The family enjoyed a vacation in Jordan in 2021 and used a photo from that trip for their Christmas card.
A photo from the vacation was also released for Father's Day last year.
Queen Rania is a member of the Earthshot Prize Council.
Welcoming our #EarthshotPrize Council Members – who every year, will award The Earthshot Prize to the five winners (1/4):

Prince William

Her Majesty Queen Rania Al Abdullah

Dani Alves – professional footballer pic.twitter.com/Ug8hT67Z6a

— The Earthshot Prize (@EarthshotPrize) October 8, 2020
There have been multiple celebrations ahead of today's wedding. Below, an image of the Queen and her future daughter-in-law at a traditional Henna party last week.
More from this Town and Country piece.
Ahead of Rajwa's wedding to Hussein, Queen Rania threw her a henna party. "I'll never forget how happy His Majesty and I were when Al Hussein told us he wanted to marry Rajwa. She is the perfect answer to all my prayers for him," Queen Rania said in her remarks. "May you always be each other's source of happiness and support.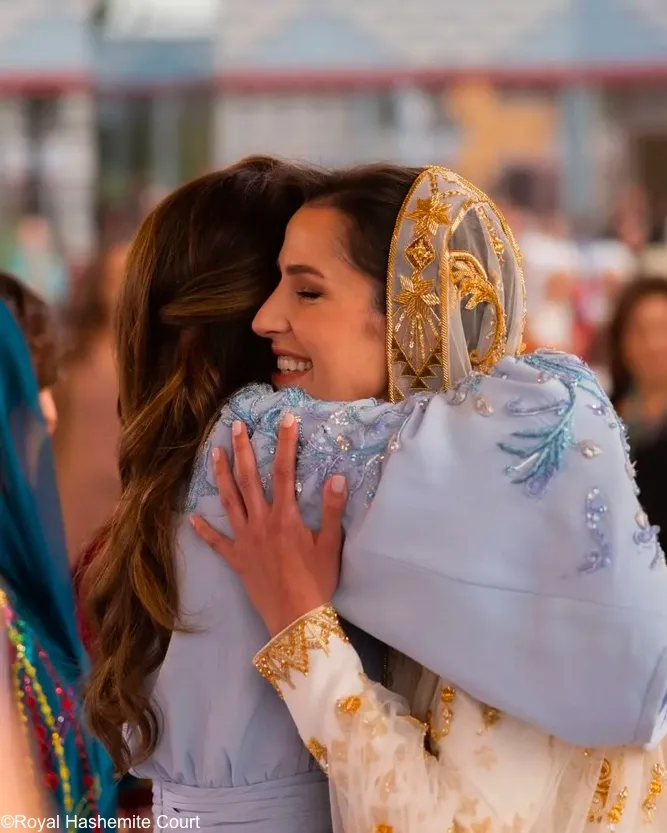 We learn more about the couple from this AP story.
Jordan's 11 million residents have watched the young crown prince rise in prominence in recent years, as he increasingly joined his father, Abdullah, in public appearances. Hussein has graduated from Georgetown University, joined the military and gained some global recognition speaking at the U.N. General Assembly. His wedding, experts say, marks his next crucial rite of passage.
The Crown Prince graduated from Sandhurst Military Academy, just as his father did, and generations of British royals and international royal family members. Below, King Abdullah and Queen Rania at the Sovereign's Parade when the Crown Prince graduated.
Embed from Getty Images
We learn more about the bride from TIME's coverage.
Rajwa, a Saudi Arabian national, is an architect and the youngest daughter of Saudi businessman Khalid bin Musaed bin Saif bin Abdulaziz al-Saif. She has three older siblings: Faisal, Nayef, and Dana.

She studied at Syracuse University in New York and the Fashion Institute of Design and Merchandising in Los Angeles. She worked at an architectural firm in Los Angeles before moving back to Riyadh, the Saudi capital.
Last night the King hosted a celebration for his son.
We return to the TIME article.
The night before the wedding, on May 31, over 4,000 male guests joined the royal court for a dinner party that showcased the culture of Jordan's Hashemite Arab rulers. Among those in attendance at Raghadan, the oldest royal palace, were high-ranking officials, business and military figures, and representatives from across Jordanian society.
Today's wedding involved several functions. The first was a religious ceremony at Zahran Palace. Below, King Abdullah II and Queen Rania as they prepared to greet guests.
The Prince and Princess of Wales are welcomed by the King and Queen.
TRH the Prince and Princess of Wales arrived at Zahran Palace.

🎥 RHC pic.twitter.com/mKAB24aGgq

— ChristinZ (@ChristinsQueens) June 1, 2023
The bride as she arrived at the Palace. Her attendants were the groom's sisters, Princess Salma and Princess Iman.
More on the venue from this AP article.
Zahran Palace in Amman, where the marriage ceremony was held, hasn't seen such pomp and circumstance since 1993, when, on a similarly sunny June day, Abdullah married Rania, who was born in Kuwait to Palestinian parents. Decades earlier, Abdullah's father, the late King Hussein, sealed his vows in the same garden with his second wife, the British citizen Antoinette Gardiner.
The Crown Prince's younger brother, Prince Hashem, escorted the bride up the aisle.
The couple exchanged vows in front of 140 guests.
Here you see some of the guests.
It was a beautiful setting.
A view as rings were exchanged.
From an ABC News piece.
Guests started clapping and ululating as he placed a ring on her finger, and crowds at public viewing areas erupted in applause.

Thursday's ceremony took place in an open-air gazebo surrounded by landscaped gardens for a traditional Muslim wedding ceremony known as "katb al-ketab."
The newlyweds as they left the Palace after the ceremony.
The couple greeted guests after the ceremony. Below, the Prince and Princess.
The Prince and Princess of Wales greeting Crown Prince Al Hussein and Crown Princess Rajwa.

🎥 RHC pic.twitter.com/tUauvr9ech

— ChristinZ (@ChristinsQueens) June 1, 2023
Then it was time for the motorcade.
The AP has more in this story.
The newlyweds later emerged from the palace in a white custom Range Rover escorted by several bright red Land Rovers, motorcycles and a military marching band — a nod to the traditional horse-mounted processions during the reign of the country's founder, King Abdullah I.
The couple's Range Rover has ties to the late Queen Elizabeth. We return to the ABC News article.
The newlyweds are traveling in a 1984 Range Rover that was customized for a visit by the late Queen Elizabeth to Jordan that year. The vehicle, nicknamed "Sheer Rover" was customized by British company Wood & Pickett. It has a cut off roof, white leather upholstery and four individual electric seats.

It was prepared for Thursday's ceremony with a paint job, redesign of the side windows and roof area, and installation of armor to protect the passengers' compartment.
We saw a host of royal family members from around the globe at today's ceremony. Also attending from the UK, Princess Beatrice and her husband, Edoardo Mapelli Mozzi.
Surprise?!! Princess Beatrice has arrived! 👑 pic.twitter.com/GPFaZWzNYW

— Charlie ♔ (@notaroyalexpert) June 1, 2023
Carole Middleton and Pippa Middleton were also seen at tonight's reception. Attending from the Netherlands, King Willem-Alexander and Queen Máxima.
Crown Princess Victoria and Prince Daniel of Sweden.
Crown Prince Frederik and Crown Princess Mary of Denmark.
From Belgium, King Philippe and Princess Elisabeth, the Duchess of Brabant.
Queen Jetsun Pema of Bhutan (R).
Other royals at the ceremony included Crown Prince Haakon of Norway, King Juan Carlos and Queen Sofia of Spain, and the King and Queen of Malaysia.
The First Lady of the United States attended, accompanied by Ashley Biden.
The bride will be styled as Her Royal Highness Princess Rajwa Al Hussein. Below, one more photo of her in the bespoke gown by Lebanese designer Elie Saab.

Now for our look at the Princess of Wales's Elie Saab gown. The blush-pink design showcases an intricate floral motif on the bodice and the sleeves. It has multiple layers and also features a high neck, full (almost blouson-effect) sleeves, and a full sweeping skirt.
The design is from the autumn/winter 2017 collection, so it is possible it's been worn previously. There is speculation it may have been worn for Pippa Middleton's wedding, as it is close in color to the Alexander McQueen dress worn by the Duchess of Cambridge for that event. Many thanks to Royal Fashion Police, Innominate, Molly Elizabeth, and Laura, for their ID work and additional background information.
The Princess carried her 'Charlie' Gold Glitter Clutch (£245, about $305) by British accessories brand Wilbur and Gussie.
UPDATE: With thanks to Middleton Maven for the tip, it looks like the Princess brought back the Prada Scalloped Wavy Strap sandals first noted in 2017 during the Germany trip.
She wore a pair of statement earrings that remain UFO. They were most recently worn to the 2017 BAFTA Awards.
A closer look. The upper portion of the earrings has a pear-shaped central stone surrounded by diamonds (or what appears to be diamonds). The show-stopping lower pendant also has a pear-shaped main stone, although it is reversed, with the point of the stone at the top. Diamonds also surround this stone.
It has been suggested the stones could be morganite or quartz. The pair was first worn for a 2011 fundraiser at St. James's Palace (below right).
Tonight the Princess is in Jenny Packham and the Lover's Knot tiara for the white-tie banquet celebrating today's nuptials. I am working on a second post covering these festivities.
VIDEOS:
A video celebrating the couple's engagement posted on Instagram by Queen Rania.
View this post on Instagram
The Royal Family Channel's coverage.

Here are five minutes of coverage via Jordan's public broadcast service, JRTV.

AP's two-and-a-half hours of coverage.