We are back with a couple of updates as well as a few newsbytes. We begin with the Cambridge family's Christmas card, released today by Kensington Palace. The message inside the card reads, "Wishing you a very Happy Christmas and New Year."
The Cambridge family photo was taken at the family's country estate, Anmer Hall, located on Sandringham's grounds. This year the photo was taken by Matt Porteous, who has chronicled many moments for the family.
Above, a promotional still Mr. Porteous shot for last year's A Berry Royal Christmas special with the Duke and Duchess and Mary Berry. Below, his photo of Prince George and Princess Charlotte with their parents that was used for a special Mother's Day message this year.
Mr. Porteous also shot the terrific photos from the Back to Nature Garden preview at the 2019 Chelsea Flower Show.
Another view.
Along with Prince George's official fifth birthday photos and this image from Prince Louis's christening.
A refresher on previous Christmas card photos includes last year's picture, one without Kate because she took the photo.
UPDATE DEC 17: As several have pointed out in comments, last year there was an additional photo used on cards. The Palace never released it so I was reluctant to include it in the roll of 'official Christmas photos' shown here, resulting in unnecessary confusion. It would have been smarter had I included it along with an explanation about the two different photos; thank you to those raising the issue!
The 2018 photo was also shot by Matt Porteous.
In 2017 this image was used for holiday cards, a photo shot by Chris Jackson, Getty's royal photographer.
The first time the family released an official photo for Christmas was in 2015.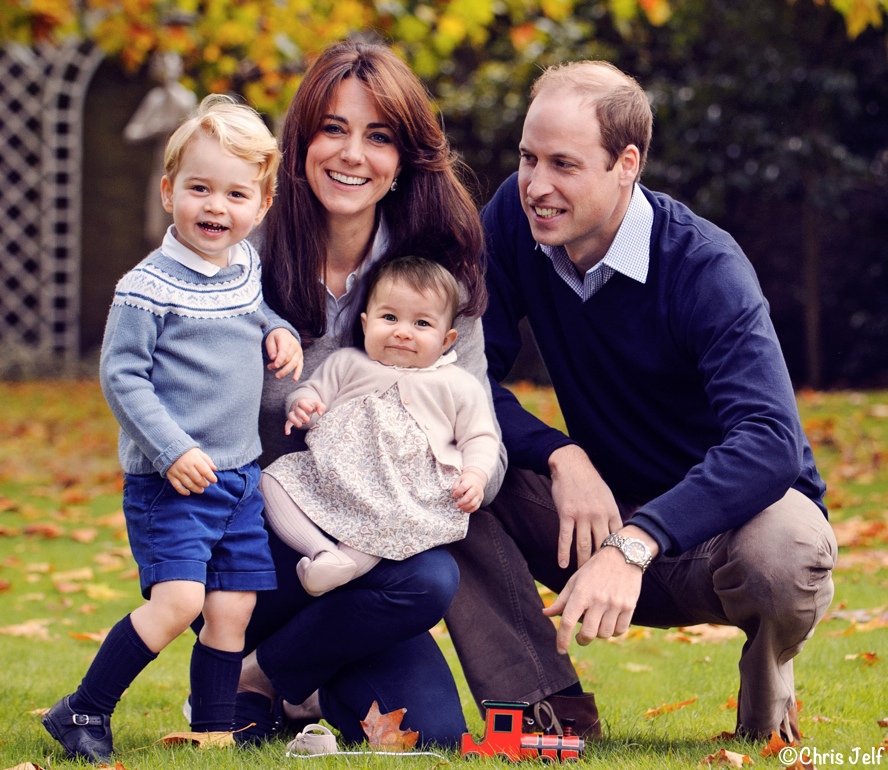 In this year's photo, Prince Louis really catches the eye – he looks like he is laughing uproariously.
Also of note, the Duchess and daughter both wearing white shirts with ruffled collars. Charlotte takes another fashion cue from her mother, sporting a pair of 'Mini-Me Midcalf Tassel Boots' by Penelope Chilvers, much like the pair her mother has worn for years. (There is more info in our What Kate's Kids Wore post here.)
Now for our look at what Kate wore in the new photograph. She was in a burgundy sweater with ribbing at the collar and cuffs, and what looks like her Marguerite Blouse by Sezane. That piece was first noted when the Duke and Duchess visited the Lake District in June 2019.
The Duchess also appears to be in a pair of her signature skinny jeans. I will update the post when I have more info on the sweater.
The Prince of Wales and Duchess of Cornwall also released the photo from their card today, taken at their home in Birkhall, Scotland.
+++++++++++++++++++++++++++++++++++++++++++++
Yesterday a new video was released with the Duchess cheering on a sailing team led by Sir Ben Ainslie as preliminary races in the America's Cup series get underway in Auckland, New Zealand. The Duchess explains, "Sir Ben Ainslie and his team are about to embark on the challenge of a lifetime – an attempt to win sport's oldest international trophy, the America's Cup."

More about this week's races from the Team UK site.
In the video, Kate recalls some of her sailing experiences with Sir Ben as part of her role as patron of the 1851 Trust.
The Trust supports teaching young students about STEM subjects by using sports as a means of engagement.
The Duchess also speaks about racing an America's Cup against her husband, Prince William, when they were in Auckland in 2014.
Additional views from the 2014 race.
In the new video, the Duchess wears a Team UK jacket.
It is the Britannia Windbreaker Jacket ($250) by British heritage brand Belstaff. The piece is lightweight water-repellant polyester, with a front zipper, two zippered side pockets, underarm vents, drawstring hood, and a drawstring hem.
AAA suggests on Twitter the Duchess may have been wearing Belstaff's Britannia Drey Long-Sleeved Tee Shirt ($140) in 100% cotton jersey.
The styles are also available at the INEOS Team UK America's Shop online.
+++++++++++++++++++++++++++++++++++++++++++++
Today's newsbytes are updates on the same topic, both lovely news:
Kate's sister, Pippa Matthews, is said to be expecting her second child with her husband, James. The couple's first child, Arthur, was born in October 2018.
Zara and Mike Tindall are expecting their third child next spring. In a podcast last week, Mike Tindall said, "It's been a good week for me, had a little scan last week – third Tindall on its way." The Telegraph reports: "Speaking on The Good, The Bad & The Rugby, Tindall said: "I'd like a boy this time, I've got two girls, I would like a boy. I'll love it whether a boy or a girl – but please be a boy." The baby will join older sisters Mia and Lena.
+++++++++++++++++++++++++++++++++++++++++++++
We have two videos to share. The first is a 'Thank You' recap of the mini-tour on the Royal Train that runs less than a minute.
From the organisations, people, and initiatives we visited to pass on the nation's thanks, to those who stopped to wave as the #RoyalTrainTour passed by, thank you to everyone we met along the way!

Aerial footage courtesy of Network Rail pic.twitter.com/FYcQzVpDmv

— The Duke and Duchess of Cambridge (@KensingtonRoyal) December 10, 2020

The second is a special 'Night Before Christmas' video from the event at the Palladium.